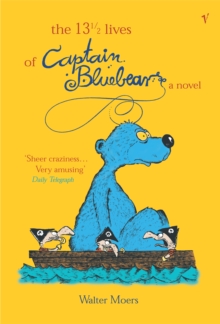 The 13.5 Lives Of Captain Bluebear
Paperback / softback
Description
A delightfully illustrated cult novel, literary satire and epic adventure. 'Within the first 15 pages I was carried away by the sheer craziness of it all.
Some Minipirates find a baby bear with blue fur inside a walnut shell floating on the ocean towards a giant whirlpool.
They rescue him and teach him about knots and waves, and that a good white lie is often considerably more exciting than the truth.
Then, when he outgrows their ship to such an extent that he is in danger of sinking it, they abandon him on an island with a bottle of seaweed juice and a loaf of seaweed bread.
Thus Bluebear comes to the end of his first life and embarks on his second.
By the end of the book, he has expended exactly half of his 27 lives.
Again and again, Moers confounds our expectations as the narrative twists and turns, travels backwards and forwards in time.
Part science fiction, part fairy tale, part myth, part epic, the book is a satire on all these genres and so constantly satirises itself.
Very amusing' - Daily Telegraph
Information
Format: Paperback / softback
Pages: 704 pages
Publisher: Vintage Publishing
Publication Date: 01/11/2001
ISBN: 9780099285328
Free Home Delivery
on all orders
Pick up orders
from local bookshops