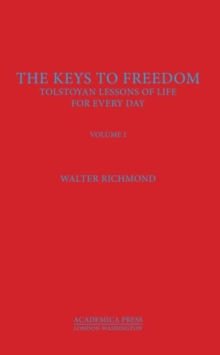 The Keys to Freedom : Tolstoyan Lessons of Life for Every Day, Volume I
Hardback
Description
The Keys to Freedom: Tolstoyan Lessons of Life for Every Day represents decades of work by Leo Tolstoy in writing, collecting, and organizing aphorisms and observations into the most complete exposition of his pacifist interpretation of Christianity, designed to be read each day.
Interspersed with hundreds of passages by Tolstoy himself, many of which appear nowhere else in his published works, are the thoughts of authors as diverse as Marcus Aurelius, Blaise Pascal, the American social critic John Ruskin, the Russian anarchist Pyotr Kropotkin, and the Sufi poet Saadi, as well as quotes from the Bible, Quran, Bhagavad Gita, Vamana Purana, and many other religious books, arranged in calendar form.
Tolstoy's goal is to reveal the path to spiritual freedom, based on his revolutionary vision of religion. The Keys to Freedom is the most methodical elaboration of Tolstoy's entire religious philosophical system, particularly his ideas on metaphysics, pacifism, and anarchy.
The reader will find not only a wealth of wisdom, but also the keys to a better understanding of the author's great works of fiction.
Information
Format: Hardback
Pages: 252 pages
Publisher: Academica Press
Publication Date: 30/04/2018
Category: Anthologies (non-poetry)
ISBN: 9781680530506