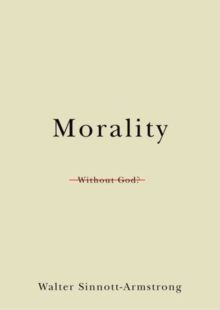 Morality Without God?
Paperback / softback
Description
Some argue that atheism must be false, since without God, no values are possible, and thus "everything is permitted." Walter Sinnott-Armstrong argues that God is not only not essential to morality, but that our moral behaviour should be utterly independent of religion.
He attacks several core ideas: that atheists are inherently immoral people; that any society will sink into chaos if it is becomes too secular; that without morality, we have no reason to be moral;that absolute moral standards require the existence of God; and that without religion, we simply couldn't know what is wrong and what is right. Sinnott-Armstrong brings to bear convincing examples and data, as well as a lucid, elegant, and easy to understand writing style.
This book should fit well with the debates raging over issues like evolution and intelligent design, atheism, and religion and public life as an example of a pithy, tightly-constructed argument on an issue of great social importance. "In his call for sincere dialogue with theists, Sinnott-Armstrong provides a welcome relief from the apoplectic excesses of Richard Dawkins and Christopher Hitchens, while also addressing objections to homosexuality and evolution frequently raised by evangelical Christians." -Publishers Weekly "[I]t is accessible and lively, my hope is that it will be widely read, especially by theists."-Peter Lamal, The Humanist "... the clarity of this text successfully defuses many erroneous claims about religion and morality, both popular and academic; this volume certainly deserves a wide audience in this increasingly secular and skeptical world." -Choice"Morality Without God? is an engaging, pithy book arguing against the necessity of God and religion for a robust morality.
Walter Sinnott-Armstrong has distinguished himself as a leading philosopher in his work on metaethics and moral psychology, as well as books on moral and epistemological skepticism, and in Morality Without God? he commendably succeeds in writing a philosophically respectable introduction to the problems facing religious morality suitable for virtually anyaudience." -Philosophia Christi
Information
Format: Paperback / softback
Pages: 192 pages
Publisher: Oxford University Press Inc
Publication Date: 15/12/2011
Category: Ethics & moral philosophy
ISBN: 9780199841356
Other Formats
EPUB from £50.88
Hardback from £29.49
Free Home Delivery
on all orders
Pick up orders
from local bookshops
Also by Walter Sinnott-Armstrong | View all
Also in the Philosophy In Action series | View all