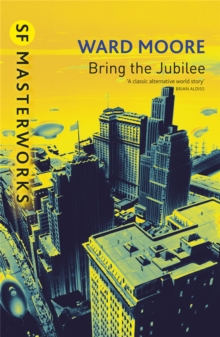 Bring the Jubilee
Paperback
Description
Trapped in 1877, a historian writes an account of an alternate history of America in which the South won the Civil War.Living in this alternate timeline, he was determined to change events at Gettysburg.
When he's offered the chance to return to that fateful turning point his actions change history as he knows it, leaving him in an all too familiar past.
Information
Format: Paperback
Pages: 208 pages
Publisher: Orion Publishing Co
Publication Date: 01/06/2001
Category: Science fiction
ISBN: 9781857987645
Other Formats
Paperback from £6.99
Hardback from £14.99
Free Home Delivery
on all orders
Pick up orders
from local bookshops
Reviews
Showing 1 - 5 of 5 reviews.
Review by stevetempo
16/06/2015
With out a doubt one the best (if not the best) Alternate-History Novels I've read. The reality created through an incredible Ward Moore" narrative is just so believable. This is one book I've never given up after reading and I reread it.
Review by adpaton
16/06/2015
In my quest to build up a substantial collection of alternate history books I recently bought Bring the Jubilee through kalahari.com: when it arrived it seemed a little familiar but not distressingly so - I thought perhaps I had borrowed it from the library. When I finished the book and went to shelve it, I discovered I already owned it - not only the same title but the exact same edition!Never mind, the book is good enough to own two of just for the pleasure of lending it out or giving it away to someone who will appreciate it - in my case, my father: Bring the Jubilee [I don't understand the title] was one of the first Alternate History books. Written in the 1950s before authors started taking liberties with real historical characters, it tells the story of a United States beaten by the 'Southron' States in the 'Southron War of Independence'. The North is financially crippled; most people indenture themselves and battle all their lives just to keep going. The infrastructure is run down or non-existent, the Ivy League universities mere bush colleges, and the population miserable: son of a blacksmith, Hodge Backmaker considers himself a huge disappointment to his parents because he is exceedingly unhandy and cannot help with the tasks. His only interest is in learning and at 17 he runs away to New York, certain his cold parents will be glad to see the back of him.The industrial revolution has not occured so there are no aeroplanes or telephones or electric lights and although some form of motorcar does it exist, they are few and far between, and limited to the areas where there are good roads. Hodge is apprenticed by an erudite printer and spends several years reading everything he can get his hands on before writing off to the remaining univiersities asking for a scholarship. His request is met by an offer from an intellectual community of scholars and Hodge is delighted to start to use his brain seriously for the first time in pursuit of his ambition to be an historian. His field of study is the Civil War and before long he has published a book to great acclaim. The second volume though is causing him misgivings and he jumps at the chance to take a trip in a time machine a college has invented so he can go back and witness the problematic Battle of Gettysburg in person, and ensure his history is accurate. The results of his expedition are not exactly unexpected as he changed the course of history by an ill-advised action and so finds himself trapped forever in an 'alternate'past, one in which the North won, and his family and friends never existed. An excellent read.
Review by salimbol
16/06/2015
One of the earliest alternate histories, in which the Southern States were the victors in the US Civil War. A fascinating early take on how US (and world) society and technology could have developed differently, coupled with a respectable coming-of-age story. Interestingly, the scope wasn't as epic as I'd expected; instead the story had a tight focus on the protagonist's own life, and this was the lens through which we saw the different course of history.
Review by JohnGrant1
16/06/2015
This classic alternative world/time travel novel, which I last read over forty years ago, begins with one of sf's classic sentences: "Although I am writing this in the year 1877, I was not born until 1921" (p1). This is possible because, to begin with, our narrator was born into a world where the South won the Civil War; where he dwells is in an economically backward 26-state United States, the rump of the Union, which can only envy the good fortune and prosperity of the Confederate States.<br /><br />Young Hodge Backmaker, restless in back-end-of-nowhere Wappinger Falls, sets off to New York to seek his fortune. There he soon falls in with and is employed by the bookseller Tyss, seemingly an enlightened man but in fact doing much covert work to support the violently terrorist Grand Army, which seeks to . . . well, as with many Liberation Fronts, the aims of the Grand Army are not entirely clear. Hodge keeps his nose clean of this clandestine activity as much as he can during his eight years with Tyss, during which he devours practically every book in the shop and decides his vocation in life is to be a historian; his ambitions are focused by his friendship with the Haitian ambassador, Enfandin, a man of enormous intellectual ability, knowledge and sagacity who's nonetheless sneered at as Sambo and Rastus by most of New York's populace: the people of the Confederate States are beginning to move out from under the shadow of racism but those of the US, blaming the slaves for having caused the ruinous war, are still in the full throes of the racist atavism. Hodge fires off application letters to all the universities he can think of, hoping for a place to read history; but the only response he gets is from Haggershaven, a strange, utopian community of scholars. He is summoned there by Barbara Haggerwells, daughter of the man who runs the place. She proves to be quite seriously psychologically damaged, yet a brilliant physicist; once at Haggershaven Hodge enters into a semi-destructive, almost masochistic off-on relationship with her that will last for years. But, while traveling to Haggershaven, Hodge rescued from a murderous gang a young Spanish girl, Catalina, and as she grows up she captures his heart -- a development disliked by the paranoidly jealous Barbara.<br /><br />Barbara succeeds in building a functioning time machine. Various Haggershavenians take trips into the past, always obeying as near as possible Barbara's strict instructions that they should do nothing to change things in the world of the past. When it comes to Hodge's turn, he chooses to go back to witness the Battle of Gettysburg to determine at first hand if the historians are right about the precise wrinkle of chance that won the battle -- and the war -- for the Southrons. As Barbara throws the lever:<br /><br /><font color="#990000">The expression on her face was the strangest I'd ever seen her wear. I could not, then or now, quite interpret it. Doubt, malice, suffering, vindictiveness, entreaty, love, were all there as her hand moved the switch.</font> (p173)<br /><br />Needless to say, Hodge inadvertently alters the course of the battle and brings into existence the timeline we know. And, in a delicious irony, it seems not to occur to him -- despite the sentence cited above -- that Barbara knew all along something like this would happen, and that she was in effect murdering her world, herself included, as vengeance against the man she perceived to have spurned her.<br /><br />The bulk of this novel concerns Hodge's life in the world into which he was born; by the time he makes the trip back to Gettysburg we're just twenty pages or so from the end. I've seen people complain about this: that the book's boring because nothing much happens until the last few pages. All I can really say is that such critics should hang up their spectacles and go do something else more commensurate with their talents, like listening to Britney Spears. Although he has an annoying tic of missing out apostrophes from some but not all contracted words (with no rhyme or reason that I can see: it's "can't" but "couldnt", for example), and although I could have done without the various cutesy references to major figures in our own timeline having minor roles in the alternative US, Moore is a fine enough writer that he makes Hodge's tale an absolutely absorbing one . . . to the point that I was actually pretty fed up when the time-travel stuff started: I could have gone on reading about Hodge, Catalina and Haggershaven for a long while yet. This is one of those rare and precious books that really does transcend genres. I'd feel happy recommending it to people who'd normally shy away from a piece of sf; at the same time, devoted skiffers who've not read this classic should definitely make the effort -- if only because this must be among the three or four best-<i>written</i> novels of sf's (late) Golden Age.
Review by wishanem
16/06/2015
What would the 1950's have been like in a world where the US lost the Civil War?<br/><br/>Ward Moore's "Bring the Jubilee" tells the story of an introverted man's search for a meaningful life in a gaslit, steam-powered, 3rd-World United States.<br/><br/>This book is an expanded version of a short story published in 1952, and that detail is apparent. You can see the padding necessary to make it novel-length; the plot drags in places, and the story meanders toward its conclusion through slow side-plots. Some of the extraneous supporting cast are actually quite interesting, specifically the protagonist's romantic partners. They're dramatically different from one another in ambitions and behaviors. Honestly, each of them has more distinct personality than the protagonist, and his actions are almost exclusively reactions to them and their actions.<br/><br/>One last note; A moderate familiarity with the events and notable generals of the Civil War, its aftermath, and late 1800s US history would greatly enhance a reader's enjoyment of this book.
Also in the S.F. Masterworks series | View all