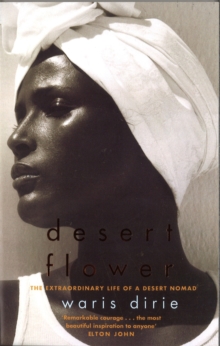 Description
Waris Dirie (the name means desert flower) lives a double life - by day she is a famous model and UN spokeswoman on women's rights in Africa, at night she dreams of her native Somalia. Waris, one of 12 children, was born into a traditional family of desert nomads in East Africa. She remembers her early childhood as carefree- racing camels and moving on with her family to the next grazing spot - until it came her turn to meet the old woman who administered the ancient custom imposed on most Somalian girls: circumcision.
Waris suffered this torture when she was just five years old. Then, aged 12, when her father attempted to arrange a marriage with a 60 year old stranger in exchange for five camels - she took flight. After an extraordinary escape through the dangerous desert she made her way to London and worked as a maid for the Somalian ambassador until that family returned home. Penniless and speaking little English, she became a janitor in McDonalds where she was famously discovered by a fashion photographer. Her story is a truly inspirational and extraordinary self-portrait of a remarkable woman whose spirit is as breathtaking as her beauty.
Information
Format: Paperback
Pages: 256 pages, Section: 8, B&W
Publisher: Little, Brown Book Group
Publication Date: 18/01/2001
Category: Autobiography: general
ISBN: 9781860497582
Free Home Delivery
on all orders
Pick up orders
from local bookshops
Reviews
Showing 1 - 3 of 3 reviews.
Review by monkimom
16/06/2015
Desert Flower is as an excellent introduction to the nomadic culture of the Somali desert. Somalia, as described by Dirie, is a beautiful and dangerous place. The people who inhabit the desert must use all their strength to create a life using only sand and the little water that can be found. It is this strength that enabled Dirie to survive female genital mutilation, her flight across the desert to avoid an arranged marriage, living as a servant in England, and finally achieving success as a model. I thoroughly enjoyed this book, finding it to be easy to read and well-written. Dirie manages to describe the more intimate events in her life with just enough detail to get her point across. She is factual, but not over the top. I am now looking forward to reading the next book in the series, Desert Dawn.
Review by boppisces
16/06/2015
This is the story of a Somali nomad girl who becomes a famous international model. After learning at age 12 that her father wants to marry her to a 60-year-old man in exchange for five camels, Waris (meaning 'desert flower') runs away from home. She makes it to London, working as a servant-girl for her uncle, the ambassador. Later she is discovered, and goes on to work as a top model and a UN spokeswoman on women's rights in Africa. This autobiography delves into Waris's childhood as part of a nomadic tribe living off what they could find in the desert. It also describes her horrific circumcision at the age of five and the ongoing legacy of that ordeal. It is an inspiring story, made all the more sad by the fact that the barbaric practice of female genital mutilation (FGM) is still be carried out on little girls, without anesthetic, leaving them with a lifetime of pain and discomfort. Shocking!'I had to learn new survival skills for this new world, which were different from the ones I was raised with in the desert. Here I needed to learn English, and how to communicate with all sorts of people. Knowing about camels and goats wasn't going to keep me alive in London' (p. 123).'The health problems I've coped with since my circumcision also plague millions of girls and women throughout the world. Because of a ritual of ignorance, most of the women on the continent of Africa live their lives in pain. Who is going to help the women in the desert - like my mother - with no money and now power? Somebody must speak out for the little girl with no voice' (p. 225).
Review by amme_mr
16/06/2015
Angus and Robertson Top 100 (2006-2008) Book #100This autobiography was very enjoyable to read. It contained some very tragic elements, but I believe that it is a book that everyone should read. It provides a direct insight into the treatment of women and young girls in Africa.