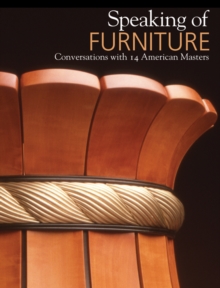 Speaking of Furniture : Conversations with 14 American Masters
Hardback
Description
An engaging history of studio furniture, Speaking of Furniture: Conversations with 14 American Masters is a fresh, interesting, and in-depth examination of the modus operandi of 14 accomplished-and diverse-furniture makers.
The colourful, informative study includes expository conversations with James Krenov, Wendell Castle, Jere Osgood, Judy Kensley McKie, David Ebner, Richard Scott Newman, Hank Gilpin, Alphonse Mattia, John Dunnigan, Wendy Maruyama, James Schriber, Timothy S.
Philbrick, Michael Hurwitz, and Thomas Hucker. The insightful interviews illuminate how these creative and gifted craftspeople arrived professionally and what their craft means to them individually.
In his interpretive and elucidatory Foreword, Edward S.
Cooke, Jr. maps out and gives the background on the parameters of the studio furniture world.
Author and furniture maker Roger Holmes offers an insider's perspective on the art and craft of producing exquisite contemporary furniture in his conversational Introduction and maintains, "Art or craft, this is very personal work."This elegant presentation skilfully sheds light on the thought processes and techniques of a celebrated and exceptional gathering of studio furniture makers who are as unique as they are stellar.
As sculptor and furniture designer Wendell Castle remarks, 'What I admired was that...fine art and craft were the same thing.'
Information
Format: Hardback
Pages: 336 pages, 336 Colour, 48 B&W
Publisher: The Artist Book Foundation
Publication Date: 01/11/2013
Category: Furniture design
ISBN: 9780988855717