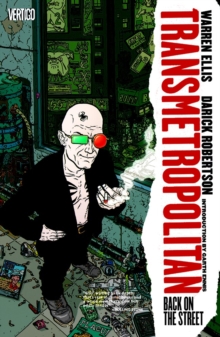 Transmetropolitan TP Vol 01 Back On The Street
Paperback
Description
Written by Warren Ellis Art by Darick Robertson, Jerome K.
Moore, Keith Aiken, Ray Kryssing, Dick Giordano, Kim DeMulder and Rodney Ramos Cover by Darick Robertson DC's new editions of TRANSMETROPOLITAN begin here, with this volume collecting issues #1-6 of the acclaimed Vertigo series from writer Warren Ellis and artist Darick Robertson!
After years of selfimposed exile from a civilization rife with degradation and indecency, cynical journalist Spider Jerusalem is forced to return to a job he hates and a city he loathes.
Working as an investigative reporter for the newspaper The Word, Spider attacks the injustices of his surreal 23rd century surroundings. In this first volume, Spider ventures into the dangerous Angels 8 district, home of the Transients - humans who have decided to become aliens through cosmetic surgery.
But Spider's interview with the Transients' leader gets him a scoop he didn't bargain for. And don't miss Spider's first confrontation with the President of the United States . . . in a men's room. Advance-solicited; on sale March 11 * 144 pg, FC, $14.99 US * MATURE READERS
Information
Format: Paperback
Pages: 144 pages
Publisher: DC Comics
Publication Date: 11/03/2009
Category: Comics and Graphic Novels
ISBN: 9781401220846
Free Home Delivery
on all orders
Pick up orders
from local bookshops
Reviews
Showing 1 - 5 of 5 reviews.
Review by Poemyhero
16/06/2015
What a raw, up front, in your face read! There were no holds bars in this GN. So if you're afraid of some honesty, nudity, and cursing, then you're on the wrong boat captain because this has it all. Plus, it's a dystopian read and who doesn't love those?! It's messed up in all the right ways. There are so many underlying messages, behind all the awesome humor and hate, and boy where the graphics killer! Loved it!
Review by yeremenko
16/06/2015
A story about a futuristic Hunter S, Thompson type of writer. It has its moments but mostly tries way too hard with over the top antics and story lines. The first story is excellent but after that they are weak and silly.
Review by Saretta.L
16/06/2015
Primo volume di Transmetropolitan, Spider Jerusalem torna dal suo eremitaggio di cinque anni e riprende con fervore l'attività di giornalista.<br/>Affronterà minoranze e scontri con la polizia, la televisione, le religioni e il Presidente con una irriverenza fenomenale.<br/><br/>---<br/>First volume of Transmetropolitan, Spider Jerusalem comes back from his five year exile and is again a journalist.<br/>He has to face minority groups, television, religions and the President with a wonderful irreverence.
Review by stacy_chambers
16/06/2015
A little meandering, but highly enjoyable. I hope the characters from the first issue of this compilation come back in subsequent volumes.
Review by EnidaV
16/06/2015
Totally original and gorgeously drawn. Brilliant!