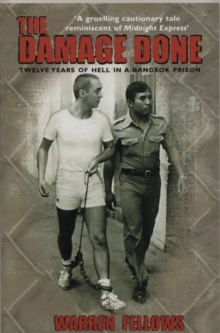 The Damage Done : Twelve Years of Hell in a Bangkok Prison
Paperback
Description
Think about the most wretched day of your life. Maybe it was when someone you loved died, or when you were badly hurt in an accident, or a day when you were so terrified you could scarcely bear it.
No imagine 4,000 of those days in one big chunk. In 1978, Warren Fellows was convicted in Thailand of heroin trafficking and was sentenced to life imprisonment.
The Damage Done is his story of an unthinkable nightmare in a place where sewer rats and cockroaches are the only nutritious food, and where the worst punishment is the khun deo - solitary confinement, Thai style. Fellows was certainly guilty of his crime, but he endured and survived human-rights abuses beyond imagination.
This is not his plea for forgiveness, nor his denial of guilt; it is the story of an ordeal that no one would wish on their worst enemy.
It is an essential read: heartbreaking, fascinating and impossible to put down.
Information
Format: Paperback
Pages: 192 pages
Publisher: Transworld Publishers Ltd
Publication Date: 07/10/1999
Category: True crime
ISBN: 9781840182750
Free Home Delivery
on all orders
Pick up orders
from local bookshops
Reviews
Showing 1 - 2 of 2 reviews.
Review by ngennaro
16/06/2015
I picked this up in the Bangkok airport and although I knew it was going to be a bit sensationalized I did expect the author to take a bit more responsibility for his actions. Although I am sure the Thai prison system is no laughing matter, I do have to believe and this is confirmed from other books about the US prison system, that its problems are are not that far different from others. In a nutshell, prison is not a pretty place. While I feel sorry for those who are duped into carrying drugs into/out of Thailand, I am having a hard time feeling terribly saddened by those who calously flaunt it and then get caught. To be clear however, I do wish that all of these systems were better run and that the people subjected to them were reformed rather than made career criminals. That however is the subject for many other books and not part of this one.
Review by MeditationesMartini
16/06/2015
And you're all "Really, dude? 'The Damage Done: Twelve Years of Hell in a Bangkok Prison' is as good as <i>Jude the Obscure</i>?" Leaving aside my massive irritation with the latter book as well as the highly idiosyncratic and subjective nature of these judgments, which goes without saying, yeah, I do.Fellows spends a lot of time on self-flagellation, which actually makes the book a bit worse. Like, we KNOW a heroin dealer is a shitty guy; we (I) can comfrtably assume that if God or karma actually requires in dome balancing-the-books cosmic energy way that he be punished, twelve years in Thai prison was enough. Not, what this book really was was that always-timely reminder that there are places where horrible, HORRIBLE things happen to people every day like it ain't no thang, and putting someone in jail isn't and must never become the same as unilaterally expelling them from the human race. I expected the filth and the disease and the going insane and the maggots under the skin. Obviously there had to be prison riots, and I was ready for extrajudicial killing. But not this much, this casually. Even in your Chinas, there seems to be acommitment to maintaining a legal sheen over the massive grinding up of social undesirables - but here, in practice, the law basically seems to be "Guards, go to town, but don't be surprised if you get the claws one day too." Like, the so-called "law" is just the law of the jungle and the recognition that in this space, it is all that applies - shades of Zizek on the Nazis. Stuf like this justifies the Amnesty Internationals of this world and their continued good work, for all their late fixation on the Bush administration.Anther really valuable thing about this book is just how shocked and dazed Fellows comes through and out of it. Like, "I lost twelve years. Really? I lost twelve years? I didn't lose twelve years. How could I have lost twelve years? I lost twelve years." Like, taking you right up close with a wadded-up handful of your jacket and saying look man, we don't get over it. We are broken for good. He didn't get twelve years. He got life.