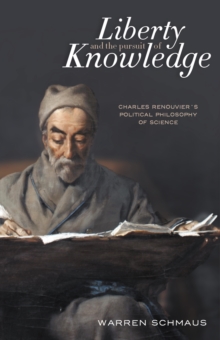 Liberty and the Pursuit of Knowledge : Charles Renouvier's Political Philosophy of Science
Hardback
Description
Renouvier emerged from youthful positivism and left-wing political activity to create a philosophy of science that challenged any political ideology that claimed the status of a science.
At the same time, he revealed the political character of the sciences.
Renouvier challenged Kant's distinction between theoretical and practical reason and argued that the principles of our knowledge, like morality and the law, also rest on our freely given consent.
The sciences are made possible through social contracts in which scientists agree to be bound at least for the time being by a set of conventions governing their disciplines.
Renouvier thus provides the historical link between Comte's positivism and Poincare's conventionalism.
Conventionalism is often caricatured as a conservative philosophy, holding back scientific progress.
Although Renouvier may have held some relatively conservative ideas about mathematics and evolution, they were not due to his conventionalism, as this book shows.
Rather, his conventionalism was a liberal philosophy of science, encouraging research in domains where no greater certainty than the consent of the scientific community could be found.
Information
Format: Hardback
Pages: 208 pages
Publisher: University of Pittsburgh Press
Publication Date: 30/09/2018
Category: Philosophy
ISBN: 9780822945352
Free Home Delivery
on all orders
Pick up orders
from local bookshops