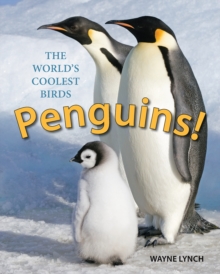 Penguins! The World's Coolest Birds
Paperback / softback
Description
Renowned photographer and science writer Wayne Lynch has a passion and fascination for the members of the penguin family.
A self-described 'penguin addict', he has logged more than 130,000 miles to sit among hundreds, sometimes even thousands of penguins on the far-flung beaches of the Galapagos Islands, Chile, Antarctica and New Zealand.
In this new edition, Lynch includes completely new photographs of these intriguing birds and reveals the effects of climate change on the habitat, life cycle and future of these resilient animals.
Advances in genetic science reveals a number of new species which Lynch adds to this new edition.
This stocky little bird survives a rocky adolescence and adulthood, to experience territorial squabbles, 'marriages', attacks by sea mammals and sometimes months without food as it incubates its eggs through the unrelenting winter.
With lively, humorous writing and unforgettable photographs, Penguins! explores the daily lives of this feisty seabird survivor.
Information
Format: Paperback / softback
Pages: 80 pages, 50 colour photos
Publisher: Firefly Books Ltd
Publication Date: 01/11/2016
Category: Wildlife (Children's/YA)
ISBN: 9781770858589