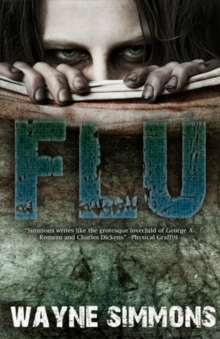 Information
Format: Paperback
Pages: 320 pages
Publisher: Snowbooks Ltd
Publication Date: 01/04/2010
ISBN: 9781906727192
Free Home Delivery
on all orders
Pick up orders
from local bookshops
Reviews
Showing 1 - 1 of 1 reviews.
Review by bibliobeck
16/06/2015
I have to be honest and declare that this was my first forray into zombielit; the reason being it doesn't really appeal to me. This explains why my rating might be lower than those dedicated to the genre. I was drawn to this book by the cover art which Amazon in their usual clever way tempted me with and there is certainly nothing wrong with Simmons writing and I loved some of the deeply dark humour in the book. Laughing at the antics of zombies on fire can be a guilty pleasure as these are not living characters after all and have to be got rid of somehow.My main problem with this book was the whole reason that I've never really gone for zombies in the past - I don't see how the stories can be anything but predictable. There is no character development with one of oozing, groaning reanimated dead. They are inevitably going to want to attack those still living as without this there would be no story and so the living have to hide/go on the run maiming as many of the shufflers as they can along the way. So it was all here - the secrect sinister government agency, the bad boy protector with the shady past, the vulnerable, the ones who don't make it and of course the zombies who seem able to sniff them out wherever they are. It's all a bit predictable, and the political sub-plot seemed a bit unnecessary to the story.A clever ending means there is plenty of scope for a sequel or two and I would certainly read another Simmons book if it dropped in my lap. I suspect that my preference for non-zombie horror has made me rate this book lower than lovers of a good zombie-fest would. I would certainly recommend it to people who like this genre as a well-written and fast paced read.