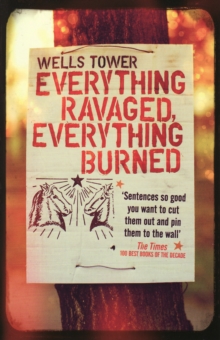 Everything Ravaged Everything Burned
Paperback
Description
A man is booted out of his home after his wife discovers that the sweat-smudged footprint on the inside of his windscreen doesn't match her own.
Teenage cousins, drugged by summer, meet with a reckoning in the woods.
A boy runs off to the carnival after his stepfather bites him in a brawl.
In the stories of Wells Tower, families fall apart and messily, hilariously try to reassemble themselves.
His characters - marauding Vikings, washed-up entrepreneurs, and jobbing hacks on local papers - are adrift from the mainstream, confused by contemporary masculinity, angry and aimless.
Combining electric prose with compassion and dark wit, this is a major debut.
Information
Format: Paperback
Pages: 240 pages
Publisher: Granta Books
Publication Date: 01/03/2010
ISBN: 9781847081209
Free Home Delivery
on all orders
Pick up orders
from local bookshops
Reviews
Showing 1 - 3 of 3 reviews.
Review by CarltonC
16/06/2015
I enjoyed this varied collection of stories, and whilst most were very much about all American male failures, they lacked the sparse language of Carver.The best was the last "Everything Ravaged, Everything Burned", set around a Viking losing the urge to go raiding due to domesticity, but told with contemporary language.
Review by KymmAC
16/06/2015
Read this book because David Vann's wife Nancy had a dream that Wells Tower saved her from drowning. I read his story from the Best American Stories 2010 collection, "Raw Water". Some of the stories are excellent."At times such as these, you get a good, humble feeling, like the gods made this place, this moment, first and concocted you as an afterthought just to be there and enjoy it."
Review by clfisha
16/06/2015
Brilliantly written slices of life.<i>"Not long after the affair had run its course, Bob and his wife were driving to town when Vicky looked up and saw the phantom outline of a woman's footprint on the windshield over the glove box. She slipped her sandal off, saw that the print did not match her own, and told Bob that he was no longer welcome in their home."</i>Tower has an arresting style and an eye for character. He takes a sharp scalpel to a life and throws us a short glimpse, a Polaroid snapshot where there are more questions than answers. Mundane lives and everyday darkness's, made interestingly ominous. There is a strong theme of familial rivalries and relationship break ups here from the sibling rivalry and middle aged fear in <i>The Retreat</i> to <i>Down Through the Valley</i> where our narrator views his ex-wives husband with jealously and dislike.<i> "I can't explain why I did these things, except to say that I carry a little imp inside me whose ambrosia is my brother's wrath." </i>Some stories don't work: one has follows multiple people around a pivotal dark moment and loses focus and my interest. The other is a tale of Vikings and quite frankly Tower's humour and arresting style just fell flat to my English ears.<i>"He crossed the cockeyed patio. Tiny lizards scattered from his path. He followed the sound of waves to the end of the yard, through a stand of pine trees, limbless and spectral. He stepped from the pines onto a road paved with oyster shells whose brightness in the morning light made his eyes clench up." </i>Worth a look to just dip your imagination into a raw, wry masculine style. Recommended to short story lovers &amp; fans of USA fiction.
Also by Wells Tower