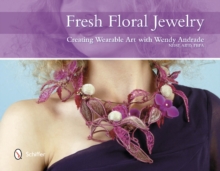 Fresh Floral Jewelry: Creating Wearable Art with Wendy Andrade
Hardback
Description
An innovative designer is always looking for new concepts.
Fresh Floral Jewelry, an instructional introduction to the world of making jewelry that incorporates fresh flowers, is the first of its kind.
For everyone from beginners to experienced jewelry makers and floral designers, this volume is an essential guide to creating exciting, colorful, and undoubtedly unique accessories that are suitable for any occasion, from proms to weddings.
Learn how to make beautiful, intricate jewelry with wire, beads, and little else, to resemble foliage in which to set your orchids, succulents, and many more floral varieties.
At the beginning is an overview of the techniques used in the book, which gives readers the freedom to jump from chapter to chapter.
The projects are ideal for people within the floral industry as well as hobbyists and enthusiasts.
Every piece in this indispensable book of jewelry ideas comes with detailed images that facilitate speedy assembly.