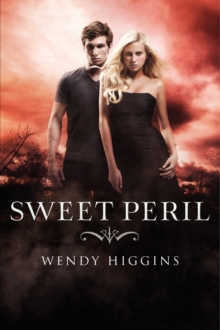 Description
Fans of Cassandra Clare's Mortal Instruments series will be drawn to Wendy Higgins's sexy, thrilling Sweet Evil series.Sweet Peril focuses on the battle between light and dark, good and evil, within Anna Whitt, the child of a guardian angel mother and a demon father.
Anna promised herself she'd never do the work of her father-polluting souls.
She'd been naive to make such a claim. Haunted by demon whisperers, Anna does whatever she can to survive, even if it means earning an unwanted reputation as her school's party girl. And all the while there's gorgeous bad-boy Kaidan Rowe, the son of the Duke of Lust, plaguing her heart and mind.Anna discovers it is her fate to banish demons from the earth, and save the other Nephilim from their dark destiny.
Until then, Anna and Kaidan must put aside the issues between them, overcome the steamiest of temptations yet, and face the ultimate question: is loving someone worth risking their life?
Information
Format: Paperback
Pages: 384 pages
Publisher: HarperCollins Publishers Inc
Publication Date: 30/04/2013
ISBN: 9780062265944
Other Formats
EPUB from £5.99
eAudiobook MP3 from £19.49
Free Home Delivery
on all orders
Pick up orders
from local bookshops
Reviews
Showing 1 - 5 of 7 reviews.
Previous | Next
Review by STACYatUFI
16/06/2015
SWEET EVIL ended with Kai leaving so I was waiting and waiting for him and Anna to reunite. SWEET PERIL didn't make me wait to long.It was great to see Anna on the front lines, sneaking around, gathering up Nephilim supporters. We really get to see how determined she is to fight evil and free the nephilim from their demon parents ways. There were plenty of situations were I thought for sure Anna and her friends were going to get caught by the demons but they got lucky, the suspense was high and it was all around great! Kopano traveled with Anna and it was nice getting to know him a bit better. Wasn't crazy with him putting the move on Anna (she was not innocent by the way) but I still like him at the end and it all worked out. Kaidan, Ah Kaidan what isn't there to say about him. Without giving away spoilers I will say that Kaidan is fantastic. I loved him in SWEET PERIL and watching him and Anna go around and around was highly entertaining.SWEET PERIL started off on the slower side but picked up and kicked the characters around at a nice clip. There was great emotion throughout the book. I am ready to see what SWEET RECKONING brings to the table when it is finally released in June, 2014. I can not wait for the showdown!!
Review by Bookswithbite
16/06/2015
I started this book on the road, so excited and ready to dive in. In the beginning, I was nervous and scared being that Kaiden made a sudden disappearance. And I wasn't sure at all what would happen… Still, I pushed though reading the book and YES! This book is FREAKING GOLD!Alright, lets dive right in and talk about the plot. It's awesome and totally entertaining. Never wavering from the lack of emotions, I adore reading every single page. It moves a great pace, allowing the reader to fall in slowly then all together never letting the reader go. I think what was most exciting for me, is watching Kaiden and Anna interact with each other. The back and forth of emotions, the struggle of doing what is right verses what is expected of you, really kept me deep into the story.Now, the love interest. Oh Boy! Kaiden, sweetie you still my breath away. Not to mention the author had my heart racing thinking that there might be a love triangle. FEAR NOT! There is no love triangle. Just a dumb boy, who once gets his head on straight, it all goes good. In the beginning there is a bit of a struggle going on, but once they declare their emotions it's on baby! Watching these two change each to other and those around the them, you feel nothing but hope.I'm super excited to read the next book. A very interesting plot with great world building, I need more. Sweet Peril is an utterly engrossing story that you can not come out of. With the great charisma Kaiden throws at you combined with Anna's sweetness you can't help but fall in love with them. A jaw-dropping sequel, Sweet Peril is a captivating story leaving you wanting more.
Review by AboutToRead
16/06/2015
I have not been able to get Kaiden and Anna out of my head since I finished Sweet Evil last year, so I was dying to dive into Sweet Peril as soon as I got it. It's an excellent story and a great romance! It just has so much going for it that I was shocked that Sweet Peril wasn't picked up for publication until after Sweet Evil was released. Lucky for us, it was picked up because Sweet Peril turned out to be even better than Sweet Evil!At first I was suffering from a bit of Kaiden withdraw. He isn't quite as present at the beginning of Sweet Peril and he is just so swoon-worthy that I really missed his presence. Even though my need for Kaiden Rowe wasn't immediately satisfied, the plot kept me more than engaged in the story.In the first half of Sweet Evil, Anna was definitely suffering from good girl syndrome and it was a bit annoying. She was just too good. By the time Sweet Peril rolls around, she is decidedly over that. Anna is still good, of course, but in a normal good-girl way instead of a holier-than-though way.The plight of the nephilim and Anna's quest to save them all is just fascinating. Wendy Higgins has created an intense and intricate angel lore in this trilogy and I'm eating it all up! It doesn't come across as particularly religious, and that may be because it focuses more on hell than on heaven. The use of the seven deadly sins is also really unique, and despite the many angel books out there, Sweet Peril really stands out as one of the best.Sweet Peril is every bit as steamy as Sweet Evil, but the characters and plot are even better! All of the characters have done some growing up, which made the story more enjoyable. We also get a much deeper look into the fascinating mythology and the quest to defeat the demons is pretty intense! Since its a covert operation there is a ton of sneaking and intrigue that will cause readers to devour Sweet Peril immediately. The only downside is the year long wait for the sequel! We need the next installment now!If you liked Sweet Evil and Sweet Peril make sure to check out the bonus scenes on Wendy Higgins website! These are scenes from Sweet Evil told from Kai's point of view. They will make you fall even harder for Kai and get you even more excited for the series.
Review by DarkFaerieTales
16/06/2015
Review courtesy of Dark Faerie TalesQuick & Dirty: Fantastic sequel filled with steamy romance, loveable characters, and heart pounding action. The Sweet Evil series is one of my all time favorite young adult paranormal reads ever.Opening Sentence: Unbeknownst to the Roman community, 666 earthbound demons were making use of the infamous Colosseum.The Review:Anna Whit is the daughter of the Duke of drugs and substance abuse. But unlike most of the Nephilim children Anna wasn't raised by her father and she has managed to fly under the radar of the Demon Whispers for all of her life, but that has recently changed. She has been reunited with her father and now all of the duke's and whispers know she exists. She promised herself that she would never tempt humans to partake in the deadly substances that are so tempting to her, but she no longer has a choice. If she wants to survive she is going to have to earn the reputation of being the schools biggest partier.Anna can't seem to forget the sexy son of Lust — Kaidan Rowe. They haven't spoken in months and Anna knows that loving him is a waste of time but he left an imprint on her heart that isn't easily replaced. Then there is an unexpected prophecy reveled and it gives the Nephilim their first sign of hope. Anna works with her father and Kopano, the son of Wrath, to try and gain allies from their fellow Nephilim. But freedom always comes with a price and the Dukes aren't going to go down without a fight.While Anna maintained a level of innocence she is no longer the naïve girl we met in the first book. She has grown into someone that can take care of herself. It is easy to admire her strength and determination to do what is right. She no longer just stands by while the people she cares about get hurt. She has found a cause worth fighting for and she will go to great lengths to achieve her goal. I really enjoyed getting to see a new side to Anna and while I loved her in the first book, I grew to respect her in this one. She is such a likeable character and so easy for me to relate to. She has quickly become one of my favorite heroines.I seriously sigh for Kai! I think that Kaidan Rowe is the perfect bad boy and I love him to death. His sexy British accent, perfect body, and gorgeous face makes him the perfect son of lust. But he is actually a really great guy that is struggling to be a better person which is really difficult in his situation. He has to stay away from Anna because it is too dangerous for them to be together. So for a large part of the book he is either ignoring Anna or not being very nice to her so she will move on, but eventually he just can't resist her. Their relationship is so well done and I loved how it progressed in this book. Kai is one of my favorite book boyfriends and he will always have a special place in my heart.Sweet Peril is an amazing sequel full of captivating writing, engaging characters, non-stop action, and epic romance. Sweet Evil was easily one of my all time favorite young adult paranormal books so this had a lot to live up to and luckily it did not disappoint me. From the first page I was completely hooked and I ended up finishing the whole book in one sitting. There is the perfect blend of action, sexy times, and drama. One of my favorite things about Higgins' writing is her ability to make her young adult books sexy but not overdue it. I honestly loved everything about this book and the final book is one of my most anticipated releases for this year, thankfully it is coming out very soon. If you are a paranormal fan you should pick up this series, it will not disappoint.Notable Scene:I was about to attempt stepping around him again when I caught his stormy eyes roaming over me, savoring the sight of the damp outfit clinging to my skin. What happened next is what I've dubbed the I-don't-know-what-came-over-me moment.Still facing him, I grasped the bottom of my shirt and slowly peeled it over my head to reveal the bikini top. I let the shirt drop to the deck with a soaking smack. I'd never seen him so surprised. He seemed to become even more shaken when he caught the punishing look in my eyes. That's right, Kai. I wasn't the only one suffering from wanting the one thing I couldn't have. I unbuttoned my shorts and shimmied them down my bottom and thighs, taking my time until they fell. I stepped out and kicked them aside, still watching him.I was no goddess, but a look like that from Kaidan Rowe would make any girl feel empowered. A dangerous thrill passed through me, imagining how wound up he must be from not working, and how a single action from me could make him swoop down and attach. And yet, I wasn't done torturing him. It was cruel and risky, but I didn't care.Playing it cooler that I ever had in my life, I gave him one last sweltering look before bending down and slowly picking up my wet clothes, then sauntering over to retrieve my bag and heading toward the bungalow area, all the while feeling the heat of his eyes. When I heard the groan that my retreating backside elicited from deep within him, I swung my hips a little more.FTC Advisory: HarperTeen provided me with a copy of Sweet Peril. No goody bags, sponsorships, "material connections," or bribes were exchanged for my review.
Review by danitronmc
16/06/2015
Let's just talk about how FANTASTIC this book is. FantasticfantastictalkfantasticFANTASTIC! Looks like Anna's not so innocent anymore. Well, okay so she kind of is. But she's bada**! She can whip around and take people down, AND throw knives to rival Kaidan now. Ah, Kai. You know, when I began reading this book I was sad because it felt like I wouldn't get to see much of Kai, what with him moving all the way across the US. And then Anna and Kope started on their international travels to find allies to eventually fight the Dukes and fulfill the prophecy that Sister Ruth's spirit revealed to Anna (if you have no idea what I'm talking about and you haven't read the first book yet, you should probably start there;)). So it seemed like Kai would be playing a backseat role in this book. But alas! I got my fill eventually and let me tell you, it was worth waiting for. Anna and Kai are about the cutest, ever. Yeah, this book is full of all sorts of tension you could think of, and those tensions are the stuff I love. Sexual tension, awkward tension, angry tension, hightened suspense–this book keeps you on your toes! Especially with this whole take-down-the-Dukes-because-it's-your-prophetic-destiny plot. The whisperers are everywhere and just when they think they're safe is exactly when they aren't. Someone DIES and the rest of them witness it! Talk about tense. The best news about all of this? SWEET RECKONING IS ALREADY OUT!!! I love this book and I love this series. 5/5 STARS;)
Also in the Sweet Evil series | View all