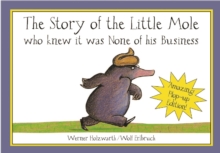 The Story of Little Mole Plop Up Edition! : Who Knew it Was None of His Business
Hardback
Description
The outrageous bestseller is back - now in a hilarious pop-up edition!
Who did their business on the mole's head? Join the intrepid mole as he sets out to find the culprit and exact his revenge in his own little way. "The Story of the Little Mole" is a favourite story loved by children and their parents all around the world with over a million copies sold! And now, you play along with compelling pop-ups, tabs to pull and flaps to lift!
Information
Format: Hardback
Pages: 24 pages, Colour illustrations throughout
Publisher: Pavilion Books
Publication Date: 15/10/2007
Category: Picture books
ISBN: 9781843650959
Free Home Delivery
on all orders
Pick up orders
from local bookshops
Reviews
Showing 1 - 4 of 4 reviews.
Review by subofan98
16/06/2015
a brilliant and hilarious book, my favourite young child book ever!!!
Review by AbigailAdams26
16/06/2015
Originally published in German as <u>Vom kleinen Maulwurf, der wissen wollte, wer ihm auf den Kopf gemacht hat</u> (literally, "Of the Little Mole Who Wanted to Know Who Did It On His Head"), and translated into English as <u>The Story of the Little Mole Who Went in Search of Whodunit</u>, this hilarious tale of scatological hi-jinks has now been made into a pop-up - or rather, a "plop-up" - edition, and released under this slightly different title, <u>The Story of the Little Mole Who Knew It Was None of His Business</u>. This book convulsed a small gaggle of my (adult) co-workers, who gathered around for an impromptu story-hour, and left still giggling helplessly. What can I say...? Apparently Werner Holzwarth knows how to communicate with our inner six-year-olds.When a little mole sticks his head out of his hole, a sausage-shaped turd lands on his head, setting off an unusual quest, as he goes in search of the one who did their business in such an inconsiderate fashion. From hares to cows, the mole questions his fellow creatures, seeing a defecatory demonstration from each, until finally - with the aid of some flies - he discovers the culprit! Hysterical enough when simply a picture-book, this story becomes even more entertaining as a pop-up, as little (or big) turds move around the page. Younger readers, with their insatiable appetite for potty humor - think <u>Everyone Poops</u>, <u>Walter the Farting Dog</u>, <u>The Adventures of Captain Underpants</u> - will be particularly amused!
Review by bstove1
16/06/2015
I think that this is a okay children's book. I like this book because it has some factual information included. Throughout the mole's search, the animals reveal what their poop looks like. Although this is not important information, the author includes it in her writing. I also like this book because of the language. The author uses predictable phrases, such as, "Did you do this on my head," that allows children to follow along and participate in reading the story. Even if they cannot read, they can pick up cues to repeat these phrases throughout the book. The main message of this story is to treat others the way you wish to be treated.
Review by akitso1
16/06/2015
I was not a huge fan of this book. It is a very bizarre way to learn about animal feces. I don't think this book has a lot of valuable information for kids or adults. The only real lesson behind this story is to learn what different animal feces look like and I don't see why that is necessary. This is a topic that does not need to be in a children's book. If someone wants to learn about animal feces, they should look it up elsewhere in my opinion.