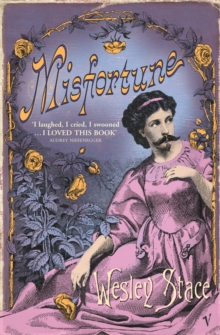 Description
Lord Loveall, heretofore heirless lord of the sprawling Love Hall, is the richest man in England.
He arrives home one morning with a most unusual package - a baby that he presents as the inheritor to the family name and fortune.
In honor of his beloved sister, who died young, Loveall names the baby Rose.
The household, relieved at the continuation of the Loveall line, ignores the fact that this Rose has a thorn...that she is, in fact, a boy.
Rose grows up with the two servant children who are her only friends, blissfully unaware of her own gender, casually hitting boundaries at Love Hall's yearly cricket game and learning to shave even as she continues to wear more and more elaborate dresses.
Until, of course, the fateful day when Rose's world comes crashing down around her, and she is banished from Love Hall as an impostor by those who would claim her place as heir.
Information
Format: Paperback
Pages: 544 pages
Publisher: Vintage Publishing
Publication Date: 01/05/2006
ISBN: 9780099468448
Free Home Delivery
on all orders
Pick up orders
from local bookshops
Reviews
Showing 1 - 2 of 2 reviews.
Review by tronella
16/06/2015
#12: Misfortune by Wesley Stace.Shaney lent me this book about a thousand years ago. I thought the writing in this book was beautiful. It reads like historical fantasy, even though nothing fantastical actually happens in it. It's set in England around the 19th century, I believe, and follows the life of the main character, Rose. Rose was abandoned as a baby but rescued by Lord Loveall, who was still mentally scarred by the death of his younger sister when they were children. So he brought up Rose as some sort of replacement for her (their names are even anagrams), even though she is biologically male. And of course, the titular misfortune eventually ensues.Like The Savage Garden, the ending does seem a little contrived, but I forgive it for the great story.
Review by SChant
16/06/2015
Tiptree shortlist 2005. I wasn't really taken with it at first - couldn't get into the "eccentric ruling class family beloved by servants and villagers" motif - but eventually Rose's story and the fascinating exploration of gender and identity won me over. Could have done without the last 50 pages of long-winded exposition to reach a rather obvious conclusion. Again, no SF&F in it so why it was on the Tiptree list I don't know, but an entertaining read.