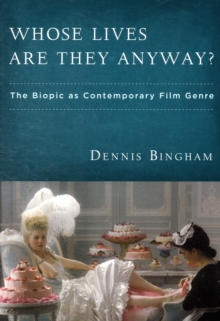 Whose Lives are They Anyway? : The Biopic as Contemporary Film Genre
Paperback / softback
Description
The biopic presents a profound paradox - its own conventions and historical stages of development, disintegration, investigation, parody, and revival have not gained respect in the world of film studies.
That is, until now. ""Whose Lives Are They Anyway?"" boldly proves a critical point: The biopic is a genuine, dynamic genre and an important one - it narrates, exhibits, and celebrates a subject's life and demonstrates, investigates, or questions his or her importance in the world; it illuminates the finer points of a personality; and, ultimately, it provides a medium for both artist and spectator to discover what it would be like to be that person, or a certain type of person.
Through detailed analyses and critiques of nearly twenty biopics, Dennis Bingham explores what is at their core - the urge to dramatize real life and find a version of the truth within it.
The genre's charge, which dates back to the salad days of the Hollywood studio era, is to introduce the biographical subject into the pantheon of cultural mythology and, above all, to show that he or she belongs there.
It means to discover what we learn about our culture from the heroes who rise and the leaders who emerge from cinematic representations.
Bingham also zooms in on distinctions between cinematic portrayals of men and women.
Films about men have evolved from celebratory warts-and-all to investigatory to postmodern and parodic.
At the same time, women in biopics have been burdened by myths of suffering, victimization, and failure from which they are only now being liberated.
To explore the evolution and lifecycle changes of the biopic and develop an appreciation for subgenres contained within it, there is no better source than ""Whose Lives Are They Anyway?"" ""Whose Lives Are They Anyway?"" cuts to: ""Lawrence of Arabia""; ""Citizen Kane""; ""Ed Wood""; ""Man on the Moon""; ""Erin Brockovich""; ""An Angel at My Table""; ""32 Short Films about Glenn Gould""; ""Lumumba""; ""Malcolm X""; ""Marie Antoinette""; ""Gorillas in the Mist""; ""Star!""; ""Superstar: The Karen Carpenter Story""; ""I'm Not There""; ""I Want to Live""; ""Rembrandt""; and, ""The Notorious Bettie Page"".
Information
Format: Paperback / softback
Pages: 53 photographs
Publisher: Rutgers University Press
Publication Date: 15/03/2010
Category: Film theory & criticism
ISBN: 9780813546582
Other Formats
Hardback from £64.50
PDF from £38.71