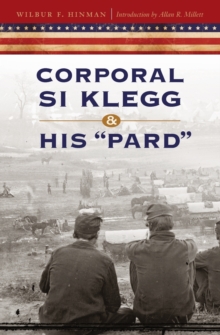 Corporal Si Klegg and His "Pard"
Paperback / softback
Description
Although many books about the Civil War have been written by veterans, few provide an accurate and entertaining portrayal of the daily life of a soldier, as does Corporal Si Klegg and His "Pard." The book, first published in 1887, gives an inside look at the transformation from citizen to soldier and the diverse and constantly changing experiences on the march, on the battlefield, in camp, and in the hospital. Although the main characters, Si Klegg and his partner "Shorty," are fictional, as is their company, Wilbur F.
Hinman himself was a four-year veteran of the war. He speaks with the authority of a soldier who participated in several battles with the Sixty-fifth Regiment of the Ohio Volunteer Infantry, which lost 25 percent of its strength to battlefield deaths and disease.
He gives a true voice to the individual soldier, presents a realistic picture of army life, and provides an accurate feel for how Civil War soldiers lived and died.
The life of a Civil War soldier is so realistically portrayed, both in the text and through the illustrations, that this book has become an indispensable reference for Civil War reenactors attempting to perfectly reconstruct the experiences of the common soldier during the war.
Allan R. Millett provides an introduction to this Bison Books edition.
Information
Format: Paperback / softback
Pages: 760 pages, 194 images
Publisher: University of Nebraska Press
Publication Date: 01/07/2009
Category: War & combat fiction
ISBN: 9780803224735
Other Formats
Paperback from £21.95
Hardback from £27.95