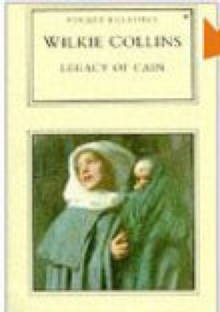 Description
A classic tale from a master of suspense.
Information
Format: Paperback
Pages: 336 pages
Publisher: The History Press Ltd
Publication Date: 01/10/1993
Category: Classic fiction (pre c 1945)
ISBN: 9780750904537
Other Formats
Paperback / softback from £16.55
Paperback from £10.99
Free Home Delivery
on all orders
Pick up orders
from local bookshops
Reviews
Showing 1 - 1 of 1 reviews.
Review by wisewoman
16/06/2015
In <I>Legacy of Cain</I>, my beloved Victorian author Wilkie Collins again takes a social/philosophical issue and builds his story around it. In <I>Poor Miss Finch</I>, it is blindness and society's perception of it. In <I>No Name</I>, it is the plight of illegitimate children. In this tale, it's the age-old question of nature versus nurture. It was fascinating to see which side is vindicated by the events of the story — though as usual, Collins lands somewhere in the middle, leaving the reader to interpret according to his wont.In this story, a young and beautiful woman is about to be hanged for the coldblooded murder of her husband. She is not in the least remorseful, and the only living thing she cares for is her infant daughter. The prison chaplain despairs of her soul until she demands to see a Congregational minister she had once heard. When he comes, she offers a hard bargain: she will repent her sin if the minister will adopt her daughter as one of his own children, and never make known the child's criminal parentage. After some hesitation, the minister accepts the charge. The prison doctor and the Governor then debate whether or not the child will inevitably inherit the murderous nature of her mother or if she will be more strongly influenced by the godly home of the minister. Collins also dwells on the possible horrors of living with this adopted daughter; if a child with such a heritage were angered by some parental correction, who knows but that she might not devise a murderous revenge? One's own home would not be safe. This is the responsibility the minister accepted when he took the child from the prison and from the infamy of her identity. The tale is narrated first by the Governor of the prison, by the diaries of Eunice and Helena, and by various letters the characters write to one another. Each person's voice is believable and distinct. It was fascinating to see how Collins is able to change the reader's mind about a character, depending on who is currently telling the story. I also thought it brilliant how Collins never <I>really</I> tells us which of the girls is which. We figure it out eventually, of course, but Collins keeps us guessing. Collins' characters are interesting. Miss Jillgall was probably one of the most interesting to me; she appears on the scene in the most disagreeable way possible — a Hyacinth Claire with none of her beauty or winning ways. But slowly we begin to realize that although Miss Jillgall <I>is</I> highly unpleasant on purpose, she only acts that way toward people who are unkind to her, and there is something better beneath the surface. I almost thought Miss Jillgall might end up married to the Governor, but it didn't happen. Dorothy Sayers was not quite accurate in <I>Gaudy Night</I> when she says Collins was less of an author than Le Fanu because Collins always explains away the supernatural things that occur in his stories, while Le Fanu allows his to stand unexplained. There is a terrifying vision in this book and although it is aided by a sleeping drug, ultimately it is attributed to the evil spirit of the executed mother. I wasn't really satisfied with Helena Gracedieu's ending. It was characteristic that she should rise to a position of some prominence, but she would have wanted revenge after what happened to her. I'm trying not to give too much away. Perhaps I'm really the one who wants revenge and justice, and what happens in the story doesn't seem quite bad enough for her. It's interesting too that Helena displays some signs of megalomania. This isn't my favorite of Collins' works; the plot was a bit too loose in places for that, and the characters, though fascinating, were not really the kind I really felt I could cheer for wholeheartedly. There were a lot of lucky (or unlucky) coincidences that carried the story along, and sometimes the characters' motivations seemed a bit thin. I'm still not sure I have figured out why Mrs. Tenbruggen did what she did. But I'm not disappointed in the book. It kept me reading and thinking, and overall it's another exciting tale from a master storyteller. Recommended!