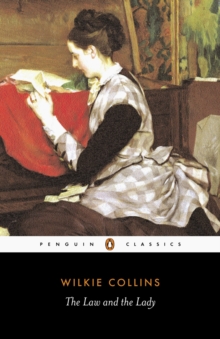 The Law and the Lady
Paperback
Description
Despite the grave misgivings of both their families, Valeria Brinton and Eustace Woodville are married.
But before long the new bride begins to suspect a dark secret in her husband's past and when she discovers that he has been living under a false name, she determines to find out why he is concealing his true identity from her.
Soon she must endure an even greater shock: the revelation that her husband has been on trial for poisoning his first wife.
Convinced of his innocence, Valeria is prepared to do anything to clear her husband's name, and in so doing upturns the conventions of polite nineteenth century society.
Other Formats
Paperback from £5.99
Hardback from £23.15
EPUB from £1.94
PDF from £2.54
Paperback / softback from £16.55
Free Home Delivery
on all orders
Pick up orders
from local bookshops
Reviews
Showing 1 - 2 of 2 reviews.
Review by Harrietbright
16/06/2015
A joy to read. Wonderful classic writing. Every word had its important place. Loved the storyline and found the characters fascinating.
Review by StoutHearted
16/06/2015
This novel would be tedious if not for the interesting side characters that seem almost shocking for the time in which it was written. The main character herself, Valeria, is a tad one-sided with her determined devotion to clear her husband's name no matter what. But we see her defy all conventions and friendly advice to do so, which is no small potatoes. Yet she is easily upstaged by the more flamboyant characters she runs into: Major Fitz-David, who with his charm and unabashed flirtations takes up all the space in whatever room he's in, and more so by Missimerimus Dexter, a sentimental, half-mad, legless man who is accompanied by his devoted but witless cousin/servant Ariel. The descriptions of the last two are often unkind, and they are immediately set apart as Others in the novel's world.Valeria's conundrum begins when she discovers her husband's deep, dark secret: He was once married before, and put on trial for the murder of his wife. The trial taking place in Scotland, her husband managed to be released under the stigma of the "not proven" verdict. While her husband runs away in agony over Valeria discovering his secret, the devoted wife soldiers on and is determined to uncover the truth about what happened to the first Mrs. McCallan so that she may clear her husband's name.It is easy to overlook the bravery and determination forged by Valeria when she is so blindly devoted to such an undeserving man as her husband. Her character does cry out for more depth, but this is compensated in part by the wildness of some of the other characters. Dexter is such a character that is not soon to be forgotten after his introduction, where he is racing wildly in circles around the room in his wheelchair, shouting nonsense. He is gothic and haunting, from the vivid descriptions of his macabre artwork, to the creepy way he hops about on his hands. Described as both man and monster, he never stands a chance for normalcy in his society, or in the novel. I don't think I've ever read a character quite like him.While not a stellar example of Collins's writing, it is a worthwhile read, especially for the fascinating characters.