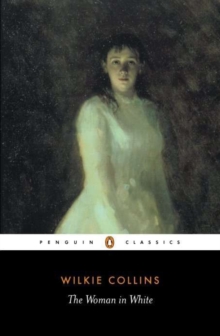 The Woman in White
Paperback
Description
Wilkie Collins's The Woman in White, the first Victorian 'sensation novel' and one of the earliest mystery novels in English, weaves multiple narratives into a thrilling and suspenseful tale of mistaken identity and dark desires.
This Penguin Classics edition is edited with notes and an introduction by Matthew Sweet.The Woman in White famously opens with Walter Hartright's eerie encounter on a moonlit London road.
Engaged as a drawing master to the beautiful Laura Fairlie, Walter is drawn into the sinister intrigues of Sir Percival Glyde and his 'charming' friend Count Fosco, the 'Napoleon of crime', who has a taste for white mice, vanilla bonbons and poison.
Pursuing questions of identity and insanity along the paths and corridors of English country houses and the madhouse, The Woman in White is the first and most influential of the Victorian genre that combined Gothic horror with psychological realism.Matthew Sweet's introduction explores the phenomenon of Victorian 'sensation' fiction, and discusses Wilkie Collins's biographical and societal influences.
Included in this edition are appendices on theatrical adaptations of the novel and its serialisation history.Wilkie Collins (1824-1889) was born in London in 1824, the eldest son of the landscape painter William Collins.
In 1846 he was entered to read for the bar at Lincoln's Inn, where he gained the knowledge that was to give him much of the material for his writing.
From the early 1850s he was a friend of Charles Dickens, who produced and acted in two melodramas written by Collins, The Lighthouse and The Frozen Deep.
Of his novels, Collins is best remembered for The Woman in White (1859), No Name (1862), Armadale (1866) and The Moonstone (1868).If you enjoyed The Woman in White, you might like Sir Arthur Conan Doyle's A Study in Scarlet, also available in Penguin Classics.
Information
Format: Paperback
Pages: 720 pages
Publisher: Penguin Books Ltd
Publication Date: 27/02/2003
Category: Classic fiction (pre c 1945)
ISBN: 9780141439617
Other Formats
Hardback from £8.35
Paperback from £2.50
CD-Audio from £16.25
EPUB from £0.99
Free Home Delivery
on all orders
Pick up orders
from local bookshops
Reviews
Showing 1 - 5 of 30 reviews.
Previous | Next
Review by debs4jc
16/06/2015
The main narrator, Walter, relates his story of suspense with the help of some of the other principle characters who share journal entries and the like. The tale involves a doomed romance, a young woman forced into an unhappy marriage, and the determination her friends to keep her from being destroyed by a scheming villian. The story had a slow beginning, but once into the drama it was hard to put down. Since it was written in the late 1800's some adjustment to the language and culture had to be made, but for me this wasn't too difficult. The characters of the diabolical Count and the resolute Marian we quite engaging and I for one would love to have a friend as steadfast as Marian was.
Review by nagem13
16/06/2015
I should start by saying that I found this book to be compulsively readable, despite (or maybe because of) the ridiculousness of some of the plot twists. It definitely kept me on the edge of my seat just wanting to know what happens next, and there's something to be said for that in a novel. And really, the plot twists can be pretty fun. Part of the reason why I couldn't put the book down was the changing points of narrative view- the person most able to tell the "truth" of the story at any given moment is the narrator. I can see why it was a bestseller when it was first published and why it has remained fairly popular ever since, even though I wouldn't put it on the same level with Charles Dickens' stuff (a contemporary of Wilkie Collins).It wasn't until after I'd finished, and started to think about things more, that certain aspects started to bother me. Probably the main problem that I had was with the character of Marian being awesome but consigned to the role of spinster. Why does Marian have to be ugly and only appreciated as a woman by the Count, who is probably the primary villain in the novel? To make that even more annoying, you then have Walter Hartright, who is in love with Marian's rich blonde sister, Laura, who is sweet but doesn't seem to have any real personality. She's just a cardboard cutout. I guess that's just a reflection of women at the time this was written? A strong independent woman was too scary to be desirable?Despite the simplicity of some of the characters, however, The Woman in White is worth the read as a page turning mystery thriller. You just have to accept it for what it is and not hope for it to challenge any conventional Victorian paradigms.
Review by gwendolyndawson
16/06/2015
This is a very long novel. An early mystery involving a mistreated mental case (the woman in white), two sisters, their art teacher, and an evil husband. I thought this was pretty boring, and I wasn't able to finish this one, but I do give it some credit for being an enduring classic. Apparently, I'm in the minority here!
Review by littlegeek
16/06/2015
Easy to see why this book has been so often imitated. Twisty plot, spooky atmosphere and well drawn quirky characters make this a hoot. Brilliant.
Review by Fluffyblue
16/06/2015
This is a fairly slow paced mystery, which I did enjoy reading the majority of the time, but found some of the book dull. It can be a bit descriptive - bordering on verbose - at times, but the actual plot is quite intriguing.