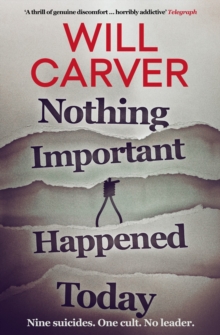 Nothing Important Happened Today
Paperback / softback
Description
When strangers take part in a series of group suicides, everything suggests that a cult is to blame.
How do you stop a cult when nobody knows they are a member? A shocking, mesmerisingly original and pitch-black thriller from the critically acclaimed author of Good Samaritans. 'Thrilling and completely original, Nothing Important Happened Today deserves to become an instant classic' Kevin Wignall, author of The Names of the DeadNine suicides One Cult No leader Nine people arrive one night on Chelsea Bridge.
They've never met. But at the same time, they run, and leap to their deaths.
Each of them received a letter in the post that morning, a pre-written suicide note, and a page containing only four words: Nothing important happened today. That is how they knew they had been chosen to become a part of the People Of Choice: A mysterious suicide cult whose members have no knowledge of one another. Thirty-two people on that train witness the event.
Two of them will be next. By the morning, People Of Choice are appearing around the globe; it becomes a movement.
A social media page that has lain dormant for four years suddenly has thousands of followers.
The police are under pressure to find a link between the cult members, to locate a leader that does not seem to exist. How do you stop a cult when nobody knows they are a member?A shocking, mesmerisingly original and pitch-black thriller, Nothing Important Happened Today confirms Will Carver as one of the most extraordinary, exciting authors in crime fiction. 'Will Carver has taken the rules of a serial killer novel and ignored every single one of them ...
A twisted and twisty thriller. This book will mess with your head' Michael Wood 'A literary thriller with the darkest storyline and the most ingenious execution I've ever read.
If you think you know what's going on in this book, you're wrong; and when it all unfolds, your jaw will drop.
This book is incredible, and Will Carver one of a kind' SJI Holliday 'I've never read such an original, stunning, clever, literary thriller.
I'm absolutely blown away. This deserves so much success' Sarah Pinborough 'Will Carver redefines crime fiction with a twisted slice of literary noir that breaks all the rules.
This is a gloriously melancholy, twisted and twisty, with so much to say on modern lives it'll stay with me for a very long time.
Wow' Tom Wood 'It's darkly twisted and deliciously distorted, shocking and completely mind warping!' Book Obsessed 'It's beautifully written.
The writing is staccato - quick, fast-paced and compelling' Off-the-Shelf Books 'This is stylish and extraordinary writing.
It's puzzling and perplexing but so damn good. There is something quite mesmerising about this story that defies genre and quite frankly, logic.
Stunning ... this will linger in my mind forever' Random Things through My letterbox
Information
Format: Paperback / softback
Pages: 276 pages
Publisher: Orenda Books
Publication Date: 14/11/2019
ISBN: 9781912374830
Other Formats
CD-Audio from £12.75
EPUB from £3.99
Save 26%
Free Home Delivery
on all orders
Pick up orders
from local bookshops