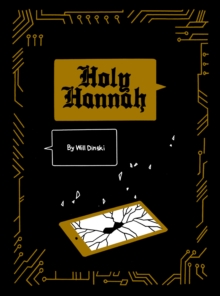 Holy Hannah
Paperback / softback
Description
Hannah, a successful tech entrepreneur, decides to drop out of society and create a new social app, "Know Me." She's invited to test the app on a small religious community, the Church of Love and Devotion.
The results go way beyond any intended consequences as lines separating the self, technology, and belief become blurred and lead to religious cult indoctrination.
Loosely inspired by the life of the notorious Jim Jones and updated for the social media age, Holy Hannah explores family and the ways in which people's lives become intertwined in unexpected and toxic ways.
Information
Format: Paperback / softback
Pages: 550 pages, B&W illustrations throughout; Illustrations, unspecified
Publisher: Uncivilized Books
Publication Date: 28/11/2019
Category: Comics and Graphic Novels
ISBN: 9781941250365