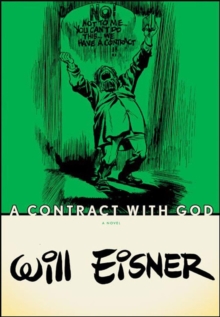 A Contract with God
Paperback
Description
Through a quartet of four interwoven stories, A Contract With God express the joy, exuberance, tragedy, and drama of life on the mythical Dropsie Avenue in the Bronx.
This is the legendary book that launched a new art form and reaffirmed Will Eisner as one of the great pioneers of American graphics.
Information
Format: Paperback
Pages: 208 pages
Publisher: WW Norton & Co
Publication Date: 01/12/2006
Category: Comics and Graphic Novels
ISBN: 9780393328042
Free Home Delivery
on all orders
Pick up orders
from local bookshops
Reviews
Showing 1 - 5 of 7 reviews.
Previous | Next
Review by theageofsilt
16/06/2015
The illustrations were compelling, but the writing itself could be improved. However, this graphic novel is a compelling slice-of-life of the working poor of the tenements of New York City circa 1930.
Review by mschaefer
16/06/2015
Excellent graphic novel of life in a New York tenement.
Review by tapestry100
16/06/2015
The "first" graphic novel, Will Eisner's <i>A Contract With God</i> is an unapologetic look at tenement living in NYC in the 30s. Taken from his own recollections from his childhood, Eisner creates 4 stories that combine to create a novel that is both unique in its vision as well as brutal in its honesty. Told as much in pictures as in words, Eisner used this book as a stepping stone to creating a body of work using the then blossoming, now growing medium of the graphic novel.
Review by stephmo
16/06/2015
Will Eisner's <i>Contract with God</i> was arguably the beginning of the graphic novel as an American Art form. No longer confining comics to daily serials starring super heroes or those on other lofty quests, Eisner's stories concentrated on the day-to-day lives of those living in a tenement on Droopsie Avenue in the Bronx. What may at first appear to be simple stories soon become the things that will bind the tenement dwellers together in the one thing that is always in plentiful supply on Droopsie...the long suffering days interspersed with the few fleeting moments of triumph. These stories will be repeated until the end of time in different skins and will be lauded as new and groundbreaking. But the truth is that it all starts here...and, yes, your grandparents and great-grandparents absolutely understood what it was like to have life randomly kick them when they were down for no good reason. And then they found ways to tell life that they were going to sometimes find victory on their own terms. Crazy, but true. Luckily, Eisner got it down for the permanent record.
Review by samfsmith
16/06/2015
Picked this up after reading "The Amazing Adventures of Kavalier and Clay", which was loosely inspired by the life of Will Eisner. I haven't read a comic book - sorry, "graphic novel", in over 40 years. It was surprisingly good, a collection of three stories about life in the tenements in New York. Amazing art work too.