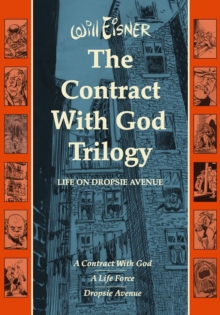 The Contract with God Trilogy : Life on Dropsie Avenue
Hardback
Description
Will Eisner (1917-2005) saw himself as "a graphic witness reporting on life, death, heartbreak, and the never-ending struggle to prevail." The publication of A Contract With God when Eisner was sixty-one proved to be a watershed moment both for him and for comic literature.
It marked the birth of the modern graphic novel and the beginning of an era when serious cartoonists could be liberated from their stultifying comic-book format. More than a quarter-century after the initial publication of A Contract With God, and in the last few months of his life, Eisner chose to combine the three fictional works he had set on Dropsie Avenue, the mythical street of his youth in Depression-era New York City. As the dramas unfold in A Contract With God, the first book in this new trilogy, it is at 55 Dropsie Avenue where Frimme Hersh, the pious Jew, first loses his beloved daughter, then breaks his contract with his maker, and ends up as a slumlord; it is on Dropsie Avenue where a street singer, befriended by an aging diva, is so beholden to the bottle that he fails to grasp his chance for stardom; and it is there that a scheming little girl named Rosie poisons a depraved super's dog before doing in the super as well.
In the second book, A Life Force, declared by R. Crumb to be "a masterpiece," Eisner re-creates himself in his protagonist, Jacob Shtarkah, whose existential search reflected Eisner's own lifelong struggle.
Chronicling not only the Crash of 1929 and the Great Depression but also the rise of Nazism and the spread of left-wing politics, Eisner combined the miniaturist sensibility of Henry Roth with the grand social themes of novelists such as Dos Passos and Steinbeck. Finally, in Dropsie Avenue: The Neighborhood, Eisner graphically traces the social trajectory of this mythic avenue over four centuries, creating a sweeping panorama of the city and its waves of new residents-the Dutch, English, Irish, Jews, African Americans, and Puerto Ricans-whose faces changed yet whose lives presented an unending "story of life, death, and resurrection." The Contract With God Trilogy is a mesmerizing, fictional chronicle of a universal American experience and Eisner" most poignant and enduring literary legacy.
Information
Format: Hardback
Pages: 528 pages, Illustrations
Publisher: WW Norton & Co
Publication Date: 06/12/2005
Category: Comics and Graphic Novels
ISBN: 9780393061055
Free Home Delivery
on all orders
Pick up orders
from local bookshops
Reviews
Showing 1 - 5 of 5 reviews.
Review by jferr29
16/06/2015
Power illustrated novel about life in the Bronx. "Dropsie Avenue", the last volume in the trilogy, was especially powerful as a history of a Bronx neighborhood that could have been written about the old neighborhood.
Review by alexnisnevich
16/06/2015
In general, I admit that I'm rather prejudiced toward graphic novels. I've been recommended Watchmen and similar works, but to me they seemed not different enough from regular ol' comics to merit the "novel" category. I never really felt that a graphic novel could really capture the sort of spark of light that you see in good books. And then I read The Contract With God trilogy.What WIll Eisner does with these books is truly amazing. He creates an entire neighborhood, full of color and stories and wit, all contained within a single street (and for the most part, within a single building). Rather than hampering the story in any way, the art complements it completely, with the simply drawn yet expressive characters and backgrounds clearly showing what would otherwise take pages and pages on description. Some of the pages were so beautifully drawn that I had to stop reading and just stare at the art for some time. The writing is at turns naturalistic (at times overly reliant on dialect, I felt) and poetic, sort of mimicking Steinbeck.The first book, The Contract with God, is a collection of four short stories set in a single building in the early 20th century Bronx, about a devout man angry with God, a street singer, a building super, and a Jewish resort town. I actually felt that the stories here were rather hit-or-miss, and I liked "The Street Singer" and "Cookalein" best. The second book, The Life Force, returns to the same building in the Depression, this time telling a long and winding narrative involving Communists, Holocaust refugees, interfaith relationships, an "enchanted prince", a Sicilian crime gang, and, of course, cockroaches. The plot sometimes feels that it simply has too much going on, but I was gripped from almost the first page.The third book, Dropsie Avenue, is something different entirely, and sets itself apart from the other two books. It chronicles the entire history of this fictional neighborhood, as it passed from Dutch colonists to the English and Irish upper classes, then to in turns Italian, Jewish, Hispanic, and black tenement dwellers, and what happened afterward, covering several centuries in all but focusing primarily on the 20th century. It's a history of a neighborhood, but it's more than just that, because, as one character writes, "Buildings are only buildings, but people make a neighborhood." In this book, unlike the others, the reader truly gets to see characters grow: a core group of characters is seen from childhood to old age, and characters change as the neighborhood around them changes well. The book is very nostalgic, but also warns against overly attaching oneself to a single image of the past, because change is always present, in every neighborhood, "visible evidence of implacable growth."P.S. I just read that Will Eisner wrote and drew Dropsie Avenue at age 78. This man is unbelievable.
Review by wyvernfriend
16/06/2015
Without the illustration this would have been nothing really, with the illustration you see these sequence of graphic novels come to life with people and neighbourhoods and history all interwoven and intermingled. The first book is Contract with God which compromises four stories, Contract with God, The Street Singer, The Super and Cookalein, these were written as a sequence and form an interwoven story of the time they're set in.The second book, A Life Force is the story of one man's life path from the depression to a new fortune. Interesting and touching.The last book is Dropsie Avenue, a biography of a neighbourhood, where he points at the contradictions people are and how they forget so quickly how they were once the new settlers, over and over again.I found this interesting and touching and hope to be as eloquent in my 90s.
Review by swampygirl
16/06/2015
Although I like this collection better then the other work by him that I've read, something always seems to inherently rub me the wrong way about Eisner.<br/>I do like his aesthetic style though, and appreciate how the piece was a breath of fresh air when it comes to the narcissistic nature of semi-autobiographical graphic novels - this collection had a slightly more mature edge to it over all.
Review by AgneJakubauskaite
27/08/2015
WHAT IS IT ABOUT?Will Eisner's "The Contract With God Trilogy: Life on Dropsie Avenue" is a collection of three stand-alone graphic novels set on Dropsie Avenue, a fictional street in the Depression-era Bronx, one of the five boroughs of New York City. The first book in this trilogy, "A Contract With God," consists of four audacious and cynical stories of Dropsie Avenue's residents. In addition to being extremely entertaining, these stories probe such timeless issues as injustice and morality. In the second book, "A Life Force," numerous stories of Dropsie Avenue's residents intertwine with each other, drawing a vibrant and realistic picture of an urban life in America during the Great Depression as well as attempting to shine the light on the meaning of life. "Dropsie Avenue," the final book in the trilogy, is a century-long biography of Dropsie Avenue itself, in which the birth, growth, decay and resurrection of the street is told through everyday lives of its inhabitants as well as the ethnic and social changes of the community throughout the decades.THUMBS UP:1) Timeless specimen.Written in 1978, the first book in the trilogy, "A Contract with God," marks the birth of a modern graphic novel, and the whole trilogy sets high standards for the genre. In addition to being so historically important and well-crafted, Eisner's book is also timeless as it deals with eternal issues and truly seems like it could have been published yesterday.2) Realistic.Although the stories and characters in "The Contact With God Trilogy" are fictional, the book is extremely realistic. On Dropsie Avenue, bad things happen to good people for no reason, bad guys prevail, and the boundaries between right and wrong are blurred. Yes, it might seem bleak, hopeless and unnecessarily violent at times, but so is life, especially during the Great Depression. What is more, the life cycle of the street in "Dropsie Avenue" is so well-thought-out and masterfully written that it seems more of a first-hand experience than a made-up story.3) Thought-provoking.Even though most of the time Eisner's tone is humorous and seemingly lighthearted, most of the stories carry a deeper message. Both directly and indirectly, the author often makes the reader pause and ponder upon the meaning of existence, reexamine shared values or reevaluate social norms.4) Gorgeous artwork.I simply adored the illustrations. They are not terrible detailed, especially when it comes to faces, as many of the characters look alike, while the same person often looks quite different in different panels, but I just love Eisner's style: so lively, so expressive and so… stylish! I wish I could draw like that. By the way, the illustrations are colorless, just pencil and ink, but I think such artwork fits the gloomy mood of the Depression-era perfectly.COULD BE BETTER:1) Wordy.At times, especially in "A Life Force," there is a little bit too much text for a graphic novel. On the other hand, the background stories or the newspaper clips really help to set the mood and understand the events better.2) Long and effortful.I loved the first book, but later my enthusiasm dwindled. However, it might be due to the fact that I read the book in a relatively short time. Although it is a graphic novel, I wouldn't call it a light read as it makes you think A LOT, and it seems that the more I think about the stories and revisit certain pages, the more I understand and appreciate the gravity of this book. VERDICT: 4 out of 5If you are a fan of graphic novels, Will Eisner's "The Contract With God Trilogy: Life on Dropsie Avenue" is a must-read as it has a historical importance in the world of graphic storytelling and is a fine example of what the genre has to offer. If possible though, don't rush reading this trilogy and take time to think about what you've read as this might help to understand and appreciate the book more.