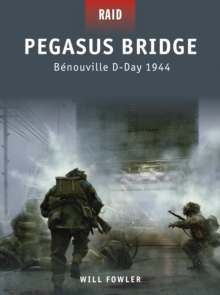 Pegasus Bridge - Benouville D-Day 1944
Paperback
Part of the Raid series
Description
The night before D-Day, light infantry and a detachment of Royal Engineers landed by gliders at Pegasus Bridge, which spanned the Caen Canal.
Quickly overwhelming the guards, they managed to hold the bridge and help prevent German reinforcements from reaching the British landing beaches.
Will Fowler provides a detailed blow-by-blow account of this classic wartime raid.
Information
Format: Paperback
Pages: 64 pages, Illustrations (some col.)
Publisher: Bloomsbury Publishing PLC
Publication Date: 07/06/2010
Category: European history
ISBN: 9781846038488
Other Formats
EPUB from £8.79
PDF from £8.79
Free Home Delivery
on all orders
Pick up orders
from local bookshops
Reviews
Showing 1 - 2 of 2 reviews.
Review by TChesney
16/06/2015
This book was read between August 21 and 24, 2011.This booklet was excellent. It was a very enjoyable short read.This is one of the Osprey Raid series. It is about a raid by British glider-borne troops from a reinforced company of the Oxfordshire and Buckinghamshire Light Infantry, against the Germans, in France, during World War II. The operation code name is 'Deadstick' and it takes place on the night of June 5/6, 1944, D-Day. It occurs inland of the Normandy beaches, on the English Channel, opposite of Sword beach. It is planned as a 'coup de main' operation to capture the Benouville (Pegasus) and Ranville (Horsa) bridges. As with all Raid booklets, it is profusely illustrated with good maps. There is no Glossary.On the positive side: There is good humor and some very touching, joyful moments. Mentioning the glider simulator training film of the model was appreciated. As well as the mentioning of the dead and dying livestock.On the negative side: There should have been an overall map of France and the English Channel, as well as one of the Normandy beaches. There should be a Glossary and it should contain CLE, GFM, OHMS, PIAT (Projectile, Infantry, Anti-Tank), HMSO (His Majesty's Stationary Office), etal. What is a Tobruk stand. Every place mentioned should be able to be located on a map. It doesn't have to actually be on a map (but that is best), but it must be able to be clearly located: 5 miles north of ..., next to ..., between ... and ...., etc. The artwork should have included the No. 36 grenade. Mentioning 'coup de main' was far too repetitive.This seemed to be more of a tour guide, than a history. Way too much about current events at the sight. Some of it is quite appropriate, but it is way overdone. Too many current photographs. There have to be good period photographs of a PIAT, etal. There is no data of British or German casualties. There is very little combat information about the actual battle. There had to have been more than killing a couple of guards, using a PIAT against a couple of armored vehicles and boats, and snipers.I have to admit that I particularly liked the mentioning of "busting for a pee". It was all of that British tea (see my review of "The Bruneval Raid: Operation Biting 1942", by Ken Ford).It was very well written!
Review by jcbrunner
16/06/2015
Having just finished Ambrose's sub-par The Wild Blue, I was wondering whether to read his Pegasus Bridge, when I cam across this Osprey Raid title which captures the daring action well in a few pages. Excellent preparation and rather tepid and minor opposition were the key to its success, which results in an anti-climatic description. The author who has led tours to the bridge has produced a nicely illustrated booklet about the action around Pegasus Bridge.