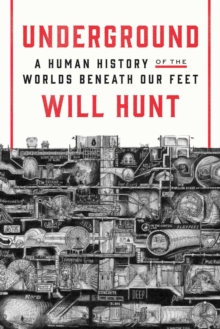 Description
'A mesmerizingly fascinating tale, one astonishing adventure after another.
I could not stop reading this beautifully written book.' Michael Finkel, author of The Stranger in the Woods'A unique history of a culturally and scientifically important netherworld most people barely know exists.' Booklist'An unusual and intriguing travel book ...
A vivid illumination of the dark and an effective evocation of its profound mystery.'Kirkus (starred review)Will Hunt is an urban adventurer who has explored caves and catacombs, subway systems, and long abandoned, ghostly mines: all varieties of holes in the ground.
He's tracked down people who, for one reason or another, have shared his underground fixation: each an incarnation of Hermes, who could see and touch the underworld in ways others could not. Underground is a place of overlapping, often contradictory associations: it is a space that evokes death and burial even as it is a place of origins; it fills us with primordial dread, even as we seek refuge there in times of strife; we dig in search of riches and we bury our most toxic waste.
It is a spawning ground for political insurgence and where governments hide their most sensitive secrets.
We excavate in search of scientific truth even as it is the ultimate wellspring of mythology, magic, and spirits.
Hunt explores Paris underground, the famous network of underground dwellings in Turkey and the hallowed caves of Australian outback; he spelunks 8,000 feet into abandoned mines in South Dakota with NASA scientists. This is an idiosyncratic, fascinating narrative history that changes our relationship to and our understanding of the world that lies beneath our feet.
Information
Format: Hardback
Pages: 288 pages, B-W illustrations
Publisher: Simon & Schuster Ltd
Publication Date: 24/01/2019
Category: Social & cultural history
ISBN: 9781471139574
Other Formats
EPUB from £9.99
Paperback from £6.95
Save 25%
Free Home Delivery
on all orders
Pick up orders
from local bookshops