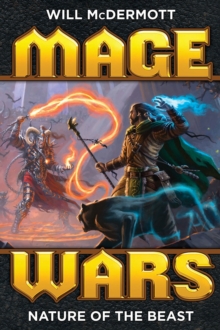 Mage Wars: Nature of the Beast
Paperback / softback
Description
A dark secret lurking beneath the surface of Etheria erupts near theStraywood Forest, engulfing the lives of two wood elves and threatening thetenuous peace between the elves and the dwarves of the Anvil Throne.
While onpatrol, an elven Beastmaster named Lithann rushes to the aid of a fellow elfbeing attacked by strange beasts she's never seen before...but she is toolate.
When the creatures disappear underground with her friend, Lithann descendsinto the darkness with her loyal fox, Wiley, to save him.
There she meets anoutcast dwarf named Digur, who may hold the key to her survival, and amysterious Sortilege elf named Inesta, who has secrets of hisown. Creator Commentary by Will McDermott:"Nature of the Beast is not your average Hero's Journeytale.
This is the story about the other guys - the loners and theoutcasts, the guards and the stewards, the folks who normally stay behind whenthe adventure starts - the forgotten characters.
It is a journey nottoward the light, but into the darkness, both literal and figurative, wherethese characters must face their foibles and fears, their painful pasts andtheir lonely lives.
It is a story about how true heroes are born, not throughtrial by fire, but by forging friendships that help them discover their owninner strength."
Information
Format: Paperback / softback
Pages: 152 pages
Publisher: Dynamic Forces Inc
Publication Date: 28/04/2015
Category: Fantasy
ISBN: 9781606905739
Free Home Delivery
on all orders
Pick up orders
from local bookshops