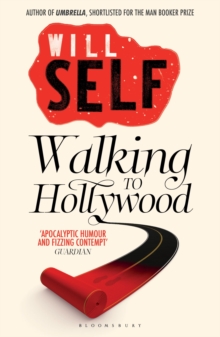 Walking to Hollywood
Paperback
Description
Walking to Hollywood is a dazzling triptych - obsessive, satirical, elegiac - in which Will Self burrows down through the intersections of time, place and psyche to explore some of our deepest fears and anxieties with characteristic fearlessness and jagged humour. `Very Little' is ostensibly the account of a curative journey to Canada and the USA, but in fact the record of a nematode's progress, as the worm of obsession - with scale and packing and the `stuff' of our lives - bores through a mind in extremesis. `Walking to Hollywood' is an extreme satire on celebrity, in which the narrator believes that everyone he meets is played by a famous actor, and that only he can solve the mystery of who murdered the movies. `Spurn Head' leads Self to a tormented sojourn with a madman whose house is sliding over the edge of a cliff, to a game of checkers with Death, and finally to an encounter with one of Swift's immortal Struldbruggs and a march through a tear in time itself.
In Walking to Hollywood Will Self pushes memoir to the limits of invention.
Information
Format: Paperback
Pages: 448 pages
Publisher: Bloomsbury Publishing PLC
Publication Date: 01/09/2011
ISBN: 9781408809945
Free Home Delivery
on all orders
Pick up orders
from local bookshops
Reviews
Showing 1 - 1 of 1 reviews.
Review by espadana
16/06/2015
'Walking To Hollywood' (WTH) surprised me. I am a fan of Will Self, although more of his short stories - so far I had only read one novel, 'The Book Of Dave', which I loved. Technically, WTH is a collection of three stories, although they can be treated as three parts of the same larger novel, each linked to a mental disorder - obsessive-compulsive disorder, psychosis, and Alzheimer's.Each story has a different feel, all of them being centered on different episodes of the main character's - a writer called Will Self - life. The first features Self's usual cynical humor through his obsessions with scale and particularly with a childhood friend of limited height, the second is a wild and demential psychotic ride through Los Angeles, throwing everything along for the ride, from angry scientologists to a mad Hulk-like rampage through the streets of L.A.But it's the final story that shines, and it was it that justified the fourth star on my rating. It is a beautifully touching tale of loss - of memory, of identity, of life -, that had me wanting to keep on reading and not leave the book until the very last page. Although the rest of the book was enjoyable, it was not the best I had read of Self - but the last 100 pages compensated for that and are truly Self at its best.