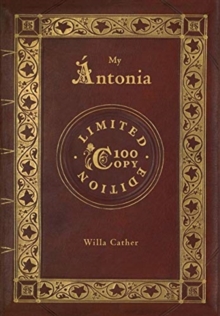 My Antonia (100 Copy Limited Edition)
Hardback
Description
My Ántonia tells the stories of an orphaned boy from Virginia, Jim Burden, and the elder daughter in a family of Bohemian immigrants, Ántonia Shimerda, who are each brought as children to be pioneers in Nebraska towards the end of the 19th century. The first year farming the harsh but fertile land leaves strong lifelong impressions on both children.
My Ántonia was enthusiastically received in 1918 when it was first published. It was considered a masterpiece and placed Cather in the forefront of novelists. Cather was praised for bringing the American West to life and making it personally interesting. It brought place forward almost as if it were one of the characters, while at the same time playing upon the universality of the emotions, which in turn promoted regional American literature as a valid part of mainstream literature.
This cloth-bound book includes a Victorian inspired dust-jacket, and is limited to 100 copies.
Information
Format:Hardback
Pages:212 pages
Publisher:SF Classic
Publication Date:29/10/2019
Category:
ISBN:9781772268041