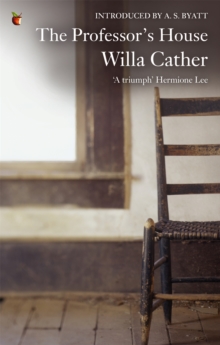 The Professor's House
Paperback
Description
On the eve of his move to a new, more desirable residence, Professor Godfrey St Peter finds himself in the shabby study of his former home.
Surrounded by the comforting, familiar sights of his past, he surveys his life and the people he has loved: his wife Lillian, his daughters and, above all, Tom Outland, his most outstanding student and once, his son-in-law to be.
Enigmatic and courageous - and a tragic victim of the Great War - Tom has remained a source of inspiration to the professor.
But he has also left behind him a troubling legacy which has brought betrayal and fracture to the women he loves most . . .
Information
Format: Paperback
Pages: 256 pages
Publisher: Little, Brown Book Group
Publication Date: 01/09/2006
ISBN: 9781844083763
Other Formats
Paperback / softback from £5.47
Hardback from £11.99
Paperback from £5.99
Free Home Delivery
on all orders
Pick up orders
from local bookshops
Reviews
Showing 1 - 2 of 2 reviews.
Review by helen295
16/06/2015
Willa Cather is an author I've heard a lot about but whose work I've never read until now. I should probably have started with her most famous book, My Antonia, but something drew me to this one, The Professor's House.The Professor of the title is Godfrey St Peter, a man in his fifties, around the same age as Willa Cather was when she wrote this novel. At the beginning of the book, St Peter and his wife are preparing to move into their new home. At the last minute the Professor decides that he doesn't want to give up his old house just yet, so that he can continue to work in his old study and spend some time alone with his memories.Most of the book revolves around St Peter reminiscing about his family and friends and coming to terms with the idea of leaving the past behind and embracing modern life. At the forefront of the Professor's thoughts is his former student Tom Outland, who had once been engaged to his daughter Rosamond. On his death in the First World War, Outland left everything he had to Rosamond - and this inheritance is causing trouble for the St Peter family.If you prefer books with a gripping plot and lots of action you'll want to avoid this one, as it was one of the slowest moving books I've ever read. I have to admit there were a few times during the first few chapters that I came close to abandoning it, but I kept reading because it was so well written. I would describe this as a calm, quiet, reflective book; one with such powerful, eloquent writing and beautiful imagery that it doesn't really matter that not much actually happens.The Professor's House is possibly a book I would appreciate more if I read it again when I'm older, as I found it difficult to identify with a fifty-two year old man looking back on his life. This was my first experience of Willa Cather and although I don't think she's going to be a favourite author, I will probably read more of her work at some point in the future.
Review by AlCracka
16/06/2015
Well, this was very pleasant and all, but...have you ever heard of a bridge version of a book? Don't feel bad if you haven't; I just made it up. What it is is you know how there are abridged versions of books, where they include the important and exciting parts and chop out some of the meandering and tangential stuff? Have you ever wondered what happens to that stuff they chop out? Well, that ends up in a bridge version of the book, and that must be the version I read because nothing fucking happened.
Also in the Virago Modern Classics series | View all