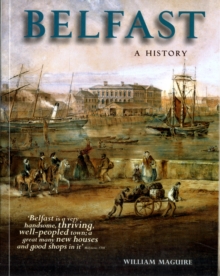 Belfast : A History
Paperback / softback
Description
Understanding the past - where we have come from and what has moulded us - is important everywhere, and nowhere more so than in Northern Ireland's largest city.
For 250 years Belfast, though quite unlike anywhere else in Ireland, was similar to many of the other great industrial cities of the United Kingdom.
It embraced the industrial revolution wholeheartedly, and witnessed enormous economic success and expansion as a result.
In its heyday it was a great port, a powerhouse of linen manufacturing, ship-building, and engineering, and a truly dominant force in the northern Irish economy.
As the iconic shell of RMS Titanic was taking shape high above her Queen's Island birthplace, Edwardian Belfast was near the peak of her economic might.
But within the city there developed patterns of community division and conflict - based on religion - which in their severity and seeming permanence have rendered it quite unique among the cities of the British Isles. From the seventeenth-century Ulster plantations to Catholic migration from elsewhere in Ireland, the particular mix of people in Belfast has always been different from everywhere else and has fundamentally shaped the city's identity and history over successive centuries.
Much of the industry has now gone, and for many years the city had to struggle with the pain of adjustment, at the same time as it was being scarred by a generation of the Troubles.
Now, with a hard-won peace, investment and renewed hope, it is an excellent time to stand back and make a new assessment of the history that has brought Belfast to where it is today.
Historian William Maguire, who has lived in Belfast for most of his life, succeeds here in painting an accurate, authentic and above all a balanced picture of the city, its events and its people.
Information
Format: Paperback / softback
Pages: 288 pages, 203 illustrations, mostly in full colour
Publisher: Carnegie Publishing Ltd
Publication Date: 18/11/2009
Category: British & Irish history
ISBN: 9781859361894
Free Home Delivery
on all orders
Pick up orders
from local bookshops