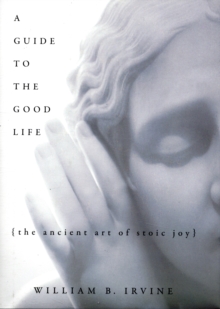 A Guide to the Good Life : The Ancient Art of Stoic Joy
Hardback
Description
One of the great fears many of us face is that despite all our effort and striving, we will discover at the end that we have wasted our life.
In A Guide to the Good Life, William B. Irvine plumbs the wisdom of Stoic philosophy, one of the most popular and successful schools of thought in ancient Rome, and shows how its insight and advice are still remarkably applicable to modern lives.
In A Guide to the Good Life, Irvine offers a refreshing presentation of Stoicism, showing how this ancient philosophy can still direct us toward a better life.
Using the psychological insights and the practical techniques of the Stoics, Irvine offers a roadmap for anyone seeking to avoid the feelings of chronic dissatisfaction that plague so many of us.
Irvine looks at various Stoic techniques for attaining tranquility and shows how to put these techniques to work in our own life.
As he does so, he describes his own experiences practicing Stoicism and offers valuable first-hand advice for anyone wishing to live better by following in the footsteps of these ancient philosophers. Readers learn how to minimize worry, how to let go of the past and focus our efforts on the things we can control, and how to deal with insults, grief, old age, and the distracting temptations of fame and fortune.
We learn from Marcus Aurelius the importance of prizing only things of true value, and from Epictetus we learn how to be more content with what we have.
Finally, A Guide to the Good Life shows readers how to become thoughtful observers of their own life. If we watch ourselves as we go about our daily business and later reflect on what we saw, we can better identify the sources of distress and eventually avoid that pain in our life.
By doing this, the Stoics thought, we can hope to attain a truly joyful life.
Information
Format: Hardback
Pages: 336 pages
Publisher: Oxford University Press Inc
Publication Date: 01/11/2008
ISBN: 9780195374612
Other Formats
EPUB from £8.44
PDF from £8.44
Free Home Delivery
on all orders
Pick up orders
from local bookshops
Reviews
Showing 1 - 5 of 9 reviews.
Previous | Next
Review by idiosyncratic
11/07/2015
Maybe more about the contents of the book later—but one thing is really annoying: the poor typography. The book is set in Dante, a wonderful typeface with a wonderful italic. But hey, why use italics when you can use an absolutely horrible slanted/faux italic. That's so distracting that I can hardly read the book. Shame, shame, shame on OUP!
Review by jwhenderson
16/06/2015
This is a thorough and well-written introduction to stoicism. Prof. Irvine provides both historical context and a discussion of the major tenets of stoicism. The discussion of Epictetus and Marcus Aurelius were excellent and the common sense approach to topics in ethics including the nature of the good life made this a joy to read. The addition of suggestions for the practice of stoicism was a plus. A good book for both beginners and those looking for a refreshing approach to the subject.
Review by annbury
16/06/2015
This book serves as a practical introduction to the ideas and techniques of the Greek and Roman Stoics. The Stoics regarded philosophy as way to learn how to live one's life, not as an intellectual game. And, contrary to general opinion, they were not about hiding all feeling: they were about minimizing unpleasant feelings. They developed a number of techniques for doing this, which -- taken together -- remind me very much of the cognitive behavioral approach to psychotherapy developed by Albert Ellis starting in the 1950's. The basic notion is that you can't control a lot of what happens to you, but you can learn to control your own reaction to it. This book starts with a brief review of the Stoics, discusses Stoic psychological techniques, consider a number of aspects of life (social relations, anger, old age) in the light of Stoic thought. I have two criticisms of the book. First, the style, while clear, is pedestrian. Second, and far more important, the author sometimes adds his own ideas to those of the Stoics, without sufficiently clarifying which is which.Still, I am very grateful to this book. It has set me on a new course -- I have started reading the writings of the Greek and Roman Stoics themselves -- which I think will make my life more joyous and less constrained.
Review by theodosius
16/06/2015
What a great resource for self- understanding and growth. Really enjoyed the philosophical content and his explanation and practice of stocsism.
Review by bezoar44
16/06/2015
The idea of this book is appealing: author William Irvine attempts to resurrect the Stoic school of Hellenistic philosophy as a workable modern philosophy of life. The Stoics believed that the universe is ordered, rational, and ultimately benign; that every aspect of our lives is determined; and that the goal of the good life is tranquility. To achieve that, we must detach ourselves from caring about outcomes and focus only on what we can control: our own mindset. As Irvine notes, this worldview has some parallels with Buddhist ethical doctrines and psychological insights, while striking a resolutely pragmatic chord.While Irvine is an academic, this is a work of practical, rather than academic philosophy. Irvine's inspiration, the Roman Stoics, are particularly appropriate for this treatment, since their surviving writings focus heavily on questions of how one ought to live, and the need for everyone to have a practical philosophy of life. The structure of the book is thoughtful, too. Irvine provides an overview of Stoic thought and major thinkers -- Seneca, Epictetus, Musonius Rufus, and Marcus Aurelius. He reviews key Stoic mental techniques, such as negative visualization, imagining the loss of people or possessions we hold dear, to better appreciate them now and to fortify ourselves against their inevitable loss. Irvine discusses how a Stoic should view a series of common questions: our relationship to other human beings and society in general; how to handle grief and anger; the proper attitude to fame, wealth, and worldly success or failure. Irvine concludes the book with a discussion of the challenges of living as a Stoic today. That said, the book is less convincing than it could be. In one passage, Irvine cites one or two articles to support the proposition that our society overindulges deep grief (as, for example, grief felt at the death of a close friend or relative, or in the aftermath of a trauma). Given that he's arguing we should adopt a view of human psychology deeply at odds with expert scientific opinion, this discussion is not sufficiently robust. In another chapter, Irvine describes how stoicism has helped him respond to insults with self-deprecating humor - when colleague says he is trying whether to describe Irvine as 'evil' or merely 'misguided', Irvine now knows to joke, 'why don't you describe me as both?' Except that this misses the point - the response doesn't matter; the internal reaction does, and it's not clear that has changed - Irvine still appears to play a game of one-upmanship, he's just redefined winning as not letting the other guy get to him, rather than sticking the other guy harder. A true stoic would abandon the game. None of these problems undermine Stoicism as a life philosophy; they just make Irvine's advice less persuasive. Ultimately, this book is worthwhile for a reader building their own practical philosophy of life and eager to see how a contemporary has done it. It would not be my first choice of a book to read as an introduction to the Stoics - for that, I'd consider an academic introduction, or the several lectures on Stoics in the History of Philosophy (Without any Gaps) podcast - but it makes for an interesting supplement to more conventional accounts.