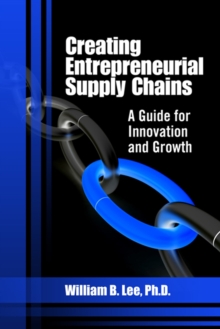 Creating Entrepreneurial Supply Chains
Hardback
Description
The most obvious form of entrepreneurship is that of starting a new business; however, in recent years, the term has been extended to include other forms of entrepreneurial activity.
Corporate entrepreneurship is the process by which teams within an established company conceive, foster, launch, and manage a new business that is distinct from the parent company but leverages the parent's assets, market position, capabilities, or other resources.
A new, but similar form of entrepreneurial activity is the entrepreneurial supply chain.
A supply chain connects customers with suppliers. An entrepreneurial supply chain is an innovative portion of that connection.
The entrepreneurial supply chain usually consists of a new venture that is developed out of new and innovative ideas.
The venture is responsible for resources, takes on risks, and is accountable for the payoffs.Most organizations view their supply chains merely as cost centers, not recognizing the fact that supply chains are well positioned to be the entrepreneurial drivers of the company. Entrepreneurial supply chains can look for innovation and revenue opportunities wherever they may be found: upstream on the supply side, downstream on the demand side, or with competitors in the middle.
This book focuses on unexplored opportunities for growth and innovation through entrepreneurial supply chains.
It shows how entrepreneurial supply chains can enhance the value of a business regardless of its form.
Creating Entrepreneurial Supply Chains: A Guide for Innovation and Growth takes the reader through the entire process of opportunity identification, due diligence, writing the business plan, managing risks, integrating the entrepreneurial supply chain venture, and reaping the payoff.Key FeaturesShows how leading companies such as Cisco, 3M, CEMEX, Corning, SYSCO, and several others have developed entrepreneurial supply chains, as well as the value each company gained from themDiscusses how the SCOR(R) model provides a framework for identifying entrepreneurial supply chain opportunities, plus how and where needs and opportunities are likely to appear including how to recognize themUses a single entrepreneurial supply chain case throughout to show how one company employed the ideas, concepts, tools, and techniques covered in each chapter, and includes additional business case summaries at the end of each chapter to enhance understanding of the concepts and to provide opportunity for further study and reflectionCovers various practical and legal forms of entrepreneurial relationships, including alliances, consortia, dealers, joint ventures, and partnerships, and explains the different ways these can be usedEmploys appendices to illustrate how to develop an entrepreneurial supply chain vision, show a sample business plan, and demonstrate how education and training programs can be developedWAV features answers to end-of-chapter questions and the following presentations for use in educational courses: Building Blocks for Excellence in Entrepreneurial Supply Chains, Entrepreneurial Supply Chains Executive Workshop, and Strategic Issues for Entrepreneurial Supply Chains - available from the Web Added Value(TM) Download Resource Center at www. jrosspub.com
Information
Format: Hardback
Pages: 320 pages, black & white tables, diagrams, figures
Publisher: J Ross Publishing
Publication Date: 28/02/2012
Category: Purchasing & supply management
ISBN: 9781604270624
Free Home Delivery
on all orders
Pick up orders
from local bookshops