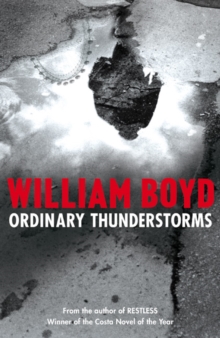 Ordinary Thunderstorms
Hardback
Description
It is May in Chelsea, London. The glittering river is unusually high on an otherwise ordinary afternoon.
Adam Kindred, a young climatologist in town for a job interview, ambles along the Embankment, admiring the view.
He is pleasantly surprised to come across a little Italian bistro down a leafy side street.
During his meal he strikes up a conversation with a solitary diner at the next table, who leaves soon afterwards.
With horrifying speed, this chance encounter leads to a series of malign accidents through which Adam will lose everything - home, family, friends, job, reputation, passport, credit cards, mobile phone - never to get them back. The police are searching for him. There is a reward for his capture. A hired killer is stalking him. He is alone and anonymous in a huge, pitiless modern city.
Adam has nowhere to go but down - underground. He decides to join that vast army of the disappeared and the missing that throng London's lowest levels as he tries to figure out what to do with his life and struggles to understand the forces that have made it unravel so spectacularly. His quest will take him all along the River Thames, from affluent Chelsea to the sink estates of the East End, and on the way he will encounter all manner of London's denizens - aristocrats, prostitutes, evangelists and policewomen amongst them - and version after new version of himself. William Boyd's electric follow-up to Costa Novel of the Year Restless is a heart-in-mouth conspiracy novel about the fragility of social identity, the corruption at the heart of big business, and the secrets that lie hidden in the filthy underbelly of everyday city.
Information
Format: Hardback
Pages: 416 pages
Publisher: Bloomsbury Publishing PLC
Publication Date: 07/09/2009
ISBN: 9781408802397
Other Formats
Paperback from £7.69
CD-Audio from £17.95
EPUB from £7.19
Free Home Delivery
on all orders
Pick up orders
from local bookshops
Reviews
Showing 1 - 4 of 4 reviews.
Review by petterw
16/06/2015
Probably Boyd's most enjoyable book to date, a real page turner, although a bit more shallow than some of his brilliant previous novels. I still enjoyed every minute of reading this thriller, (because that's what it is), spiced with characters typical of Boyd: the helpless, joyless middle aged englishman, the men and women being at the wrong place at the exact wrong time, etc. It is also a book for lovers of London, the other side of London this time. For those who have never read a Boyd novel, this might be an easy place to start to get to know one of the best story tellers of our time. There is a sadness at the bottom of all his novels, but there is also always hope, not for all but for some.
Review by WodehouseLib
16/06/2015
This book will have you hooked from the first three pages - its fast paced, not too violent, and an interesting view of London in the 21st century. Would recommend. HF.
Review by safetygirl
16/06/2015
This was great. Will definitely read more by this author.
Review by Eyejaybee
16/06/2015
This was the second time that very I have read this very enjoyable novel. Though not, quite soaring up to the stratospheric heights of William Boyd's previous novel "Restless" nor as flawless as "Any Human Heart", this was still utterly engrossing, and demonstrated an intimate knowledge of the various reaches of the Thames. Indeed, the plot proved almost as sinuous as the river itself.The novel opens with Adam Kindred, a leading academic climatologist, emerging from an interview for an appointment at one of the leading London universities and going for a meal in a nearby restaurant. There he finds himself sitting next to Dr Philip Wang, a pharmacologist engaged in the quest for a cure for asthma. They chat briefly and then Wang departs. However, Adam notices that he has dropped a file of papers. Finding Wang's business card in the file he phones him, and arranges to take the forgotten papers around to the nearby flat Wang is staying in. When he arrives there he finds the door already open and, walking in he find that Wang is on the point of death having just been stabbed. Adam then notices that the flat has also been ransacked. Hearing a noise outside he flees, but not before he foolishly attempts to remove withdraw the knife that is still stuck in Wang's side, thus leaving his fingerprints behind.From that point on Adam finds himself leading the life of a fugitive, pursued by the police but also by the actual murderer. Having nowehere to turn he takes to living rough, and displays considerable ingenuity in carving out a new life on the streets of London. Menawhile the actual murderer is hunting him down, anxious to retrieve the file that Adam was still holding when he fled Wang's flat.Meanwhile we are introduced to Ingram Fryzer, CEO of Calenture-Deutz, the pharmaceutical firm for which Wang had been working. Fryzer has his own problems as he finds that he is suffering from sudden short-lived but intense pains while he also fleetingly, and gradually more frequently, loses control of his vocabulary.Ranging from the affluence of Chelsea to pockets of extreme deprivation in the East End, and taking in a range of uber-businessmen, contract killers, new age evangelists, prostitutes and police officers the plot constantly changes direction but never falters.This book definitely rewards the reader!