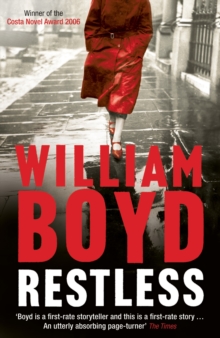 Description
It is 1939. Eva Delectorskaya is a beautiful 28-year-old Russian emigree living in Paris.
As war breaks out she is recruited for the British Secret Service by Lucas Romer, a mysterious Englishman, and under his tutelage she learns to become the perfect spy, to mask her emotions and trust no one, including those she loves most.
Since the war, Eva has carefully rebuilt her life as a typically English wife and mother.
But once a spy, always a spy. Now she must complete one final assignment, and this time Eva can't do it alone: she needs her daughter's help.
Information
Format: Paperback
Pages: 336 pages
Publisher: Bloomsbury Publishing PLC
Publication Date: 02/01/2007
ISBN: 9780747586203
Other Formats
EPUB from £7.19
CD-Audio from £34.55
Free Home Delivery
on all orders
Pick up orders
from local bookshops
Reviews
Showing 1 - 5 of 15 reviews.
Previous | Next
Review by MikeFarquhar
16/06/2015
Finished Restless by William Boyd today, which was a decent espionage thriller.In rural Oxfordshire in 1976, Ruth Gilmartin lives a relatively uneventful life; at 28, she is a single mother, trying to write a PhD thesis, and earning a living teaching English as a foreign language. Her life is unremarkable. Then her mother, Sally, hands her the first chapter of a manuscript she has written, in which she sets out how 'Sally Gilmartin' is a fake; the woman that Ruth has known all her life, and the woman Ruth's now dead father married, wasn't a real person at all.Sally was Eva Delectorskaya, a half-Russian, half-English migrant, who, aged 28, was recruited by British Intelligence in Paris just before the outbreak of WWII. Gradually, 'Sally' reveals her secret past to her daughter...how she was recruited, what she did during the war, and how her last operation in Mexico went horribly wrong as one of her own betrayed her. Now, a generation later, with an increasing feeling that she is being hunted, Eva is determined to lay old ghosts to rest once and for all - and she will need her daughter's help to do it.It's a briskly written thriller, alternating chapters telling Eva's story as she sets it out for her daughter, with chapters focussed around Ruth in the present day. The WWII stuff is very well done, and covers stuff I don't have that much knowledge of, but am now interested to find out a bit more (Eva works for a branch of British Intelligence which manipulates the media to cause effects on the war effort; pre the fall of France they are based in Belgium, with their main target being Nazi Germany; but in the latter part of the story, during 1941, they have relocated to New York where they are part of a huge British Intelligence operation to change the tide of feeling in the US over entering the War)What's as impressive though is Boyd's depiction of Ruth's far more mundane life; I was as happy reading her chapters as I was Eva's, and given how interested I was in Eva's story, that's saying something. As the novel progresses, and Eva tells her story in her own way, it becomes clear that she is shaping things to achieve her ends - so that neither Ruth, nor we, really know what is truth, and what is simply there to set us off in a particular direction. The twisty nature of the mind of a spy comes over well.The conclusion, as Eva manipulates people and events around her to face her past, works reasonably well, but it's in its depiction of British Intelligence in the early part of the war that this shines. An effortless page-turner.
Review by murraymint11
16/06/2015
Gave an insight into the life of a spy during WWII. Enjoyed the references to Oxford in the 1970's (my era), but lost interest in both the plots about 2/3 of the way through. I didn't engage with any of the characters, as none of them had any warmth (except perhaps the Muslim pupil).
Review by herschelian
16/06/2015
Page-turner, intriguing tale of wartime spying and its consequences for the individuals involved. A double helix of a story with the mother's past life spiralling round the daughter's present life.
Review by barnaby
16/06/2015
This is a very readable and compelling novel from William Boyd, and author who I had not read at all until I chose this book in my local bookshop. If I'm completetly honest, I only bought it because it has been selected by Richard & Judy (a UK chat show, if you are not familiar with it). It is fast paced, going back and fourth through time, when Eva Delectorskaya is a young woman, and when she is an old mother. Some characters you either love or hate (I hated Romer) but that is usually the way with most books.
Review by buttes-chaumont
16/06/2015
Ever since 1984 when I read "An Ice-cream War" I have read every subsequent William Boyd in the hope that I will enjoy it as much. All his novels have been worth reading but they have tended to become over large and sprawling and there are certain themes that rather tediously keep reappearing to no great effect. I had high hopes of this as it seemed to be more concise but in fact I very nearly failed to finish it. There was a major problem with the authorial voice which in both strands of the novel was female. Over and over again, the idioms, vocabulary, observations and preoccupations seemed to be male in origin. This effect was especially pronounced in the character of the younger narrator. Fortunately the plot was enough to engage my continuing interest and eventually I ceased to worry about the voice of the narrator. The story of betrayal at the heart of the book was handled well and showed Boyd's writing at its best. I still hold out the hope that he can do better and combine the dark humour and humanity that made "An Ice-cream War" such a great book.