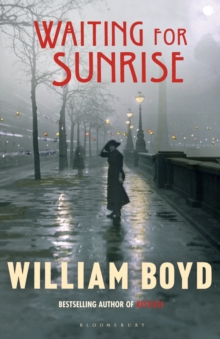 Waiting for Sunrise
Hardback
Description
Vienna, 1913. Lysander Rief, a young English actor, walks through the city to his first appointment with eminent psychiatrist, Dr Bensimon.
Sitting in the waiting room he is anxiously pondering the particularly intimate nature of his neurosis when a young woman enters.
Lysander is immediately drawn to her strange, hazel eyes and her unusual, intense beauty.
Her name is Hettie Bull. Their subsequent affair is both passionate and particularly destructive.
Moving from Vienna to London's West End, from the battlefields of France to hotel rooms in Geneva, Waiting for Sunrise is a feverish and mesmerising journey into the human psyche, a beautifully observed portrait of wartime Europe, a plot-twisting thriller and a literary tour de force.
Information
Format: Hardback
Pages: 368 pages
Publisher: Bloomsbury Publishing PLC
Publication Date: 01/02/2012
ISBN: 9781408817742
Other Formats
EPUB from £6.39
CD-Audio from £17.95
Free Home Delivery
on all orders
Pick up orders
from local bookshops
Reviews
Showing 1 - 4 of 4 reviews.
Review by Eyejaybee
16/06/2015
What a fantastic year this is turning out to be, as far as books are concerned. This is certainly another winner from Boyd. It bears many of the characteristics of his most successful works - the use parallel texts to allow for different perspectives, the gradual uncovering of characters' secret histories and even (briefly) wrongful imprisonment vaguely reminiscent of "Any Human Heart".The novel opens in 1913 with principal character Lysander Rief, a moderately successful actor who is just beginning to make a name for himself on the London stage, living in Vienna where he has travelled for the purpose of accessing psychoanalytical help with an embarrassing and difficult "condition". He is persuaded by his analyst, Dr Bensimon, to maintain a diary or commonplace book, as a means for cathartic chronicling of his progress. While attending one of his appointments with Dr Bensimon Rief encoutners Hester "Hettie" Bull with whom he promptly falls deeply in love, despite his hitherto plangent letters to his fiance Blanche who has remained in London. As luck would have it at Dr Bensimon's surgery he also encounters Alwyn Munro who is a special attache at the British Embassy in Vienna. This acquaintance will shortly prove very fortuitous as things are about to go very wrong.After an unexpectedly adventurous departure from Vienna Rief finds himself back in London where he tries to resume his acting career, before becoming immersed in Britain's war effort. After having signed up to the East Sussex Light Infantry, and spent some time guarding an internment camp, his former acquaintances catch up with him, and he finds himself reassigned to very different activities, with wholly unexpected consequences.As ever with William Boyd, the plot is entirely believable and the characters immensely plausible. He seems to go from strength to strength!
Review by YossarianXeno
16/06/2015
It is William Boyd. It is part spy novel, part a tale of one man's personal development. You don't really need to be told therefore, this is a good book, pacy, interesting and well written. No, isn't quite up to the stand of Any Human Heart, The New Confessions or Restless, but it is still a cut above most things you'll read this year. Enjoy.
Review by SamSattler
16/06/2015
Readers of William Boyd's new novel Waiting for Sunrise had best be prepared to play amateur detective because this one is filled with enough twists, turns, false leads, hints, and clues to make anyone's head spin. Best of all, it is both an admirable piece of historical fiction and a whole lot of fun.We first meet British actor Lysander Rief in 1913 Vienna, to which he has temporarily relocated in order to be treated by a Sigmund Freud disciple with an office only a short distance from the master himself. Although Lysander's psychoanalyst has modified some of Freud's methods, he proves to be particularly adept at "curing" the sex-related problem that Lysander brings him – so successful, in fact, that Lysander, while still in treatment, initiates a torrid affair with a married woman he first meets in the doctor's waiting room.The affair will end badly, forever changing the lives of Lysander and Hetty Bull, his lover. One will flee Vienna barely a step ahead of the law; the other will still be in Vienna as the ugliness of World War I begins. One will be forced by British intelligence to take on the role of soldier/spy, a spy in search of a traitor who is costing thousands of British lives by leaking intelligence to the enemy. The other continues the tortured and destructive life that made analysis necessary in the first place. Unfortunately for both, their paths will cross again in London.Waiting for Sunrise is long on atmosphere and character development. Boyd builds his main characters (in particular Lysander, Bull, and Lysander's mother) gradually, layer by layer, until the reader comes to know them as well from their innermost thoughts as from their actions. If, as is often said, literary fiction tends to focus more on style and the emotional depth of characters than on plot, Waiting for Sunrise handily qualifies as such. This is not to say, however, that the book has no plot, because Boyd's intricately rewarding plot, if it is to be followed, demands the reader's full attention from first page to last.Lysander's pursuit of the mole inside British intelligence will leave him second-guessing everything he thinks he knows about himself and his own background. When he becomes suspicious of those closest to him, he begins to wonder if he is just a player in someone else's spy game. But this game could end up having more disastrous consequences for Lysander than for the man he pursues.Rated at: 4.0
Review by thejohnsmith
16/06/2015
The story begins when a young actor meets a young woman in the waiting room of his psychoanalyst in Vienna in 1913. From there we're taken on an eventful ride through two years of relationships, treachery, espionage and intruige. This is a very entertaining and engaging tale. I enjoyed every page of it.