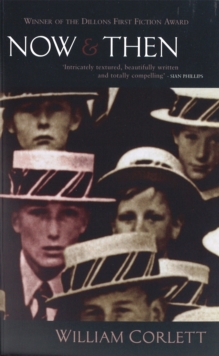 Description
Now. Christopher Metcalfe returns to his family home in Kent after the death of his father.
Sorting through a box of memorabilia from his days at public school, Chris is suddenly confronted by the face that has haunted him for thirty years. Then, as a callow fifth former enduring the excesses of a school system designed to run an Empire that no longer existed, a most extraordinary thing happened amid the thrashings, and cross-country runs: he was seduced by Stephen Walker, a prefect two years his senior with whom he went on to share a brief but intensely passionate affair.
Now, again, alone, approaching the age of fifty, Christopher is painfully aware of the price he paid for letting go, and resolves to find Stephen, and discover what became of the only person he has ever loved. Delicately revealing the layers of both past and present as it alternates between now and then.William Corlett's moving debut novel illuminates the vacuity of Christopher's emotional life with subtle power and poignancy, exploring a multitude of themes in his exposition of his search for identity.
Information
Format: Paperback
Pages: 352 pages
Publisher: Little, Brown Book Group
Publication Date: 01/01/1996
ISBN: 9780349107752
Free Home Delivery
on all orders
Pick up orders
from local bookshops
Reviews
Showing 1 - 2 of 2 reviews.
Review by Bembo
16/06/2015
As told by Christopher Metcalfe in alternating chapters "now", in his forties, and "then", as a fifth former at public school, we learn what has made Christopher what he is, and eventually what he could become. "Now" he is a seemingly comfortable bachelor, but following the death of his father, and the subsequent discovering a box of photographs and reports from his school days he is awakened to a past that has made him what he is. "Then" a good looking fifth former himself, he is seduced by a handsome prefect two years his senior, Stephen Walker. There follows a brief, intense but spasmodic affair, which is so beautifully related that it is hard to find any fault with the relationship, despite the guilt that they feel, and they declare their love for one another. But the affair ends tragically when Stephen moves on to Cambridge and Christopher, or Kit as Stephen affectionately calls him, is left to endure his reaming years at school alone. "Now" Christopher realises what this affair and a subsequent promise to himself has cost him, and he sets out to find Stephen and discover what has become of the only person he has ever loved.The story is beautifully told, and the various characters are a delight, including Christopher's horrendous sister and her family, his adoring and surprisingly open minded mother, and his man chasing friend Catherine, with whom he enjoys a close platonic relationship.This is a witty, warm and very moving story, which I thoroughly enjoyed.
Review by narwhaltortellini
16/06/2015
I read all these positive comments about the book, and decided to read it, but every time I read a summary for it, the cynical part of my head (...that might be most of it) kept rewording the summaries: 'This story alternates between viewpoints of Chris NOW, when he is probably a depressing, remote, annoying old man who has wasted his life and is now starting to regret it, and where you get to see how he interacts in probably very true-to-life-but-who-says-that-makes-it-fun-to-watch ways with his family, and THEN when he was younger, more naive, and also probably angsty and obsessive and stupid. You will get into it because it is well-done, wishing something good and refreashing will happen to the characters, when really it's just getting more hopeless, and then it will end with good 'closure' and the main character will finally be able to 'move on,' but won't really leave you exactly feeling like it was a good, worthwhile experience for them, either (even if maybe you know it was). It will be a good book/ending because it is well written and realistic, but you will also moan and want to strangle it and wish you could find writing like this in happier (perferably fantasy) stories.'Avoiding it on my shelf for a while, I eventually glanced through some of the earlier pages, and what do you know if the guy isn't actually kind of snarky and nice and not completely self pitying and angsty! And his mother's an awesome lady, kind of like him! I actually care about how their relationship is going to end up! And the tone is a little more upbeat than you would ever expect! Maybe this will not only be good, but also actually your style!...And it was!!!! ....For the first chunk. ...And then it turned in to exactly what I thought. ^_^ (though for the record, his mother stayed cool. but the whole subplot just seemed to lose importance after a while) I'm not saying that makes it bad, of course, but... Aah, well... Rated for what it is it would probably get a 9... Rated for my appreciation of it... Oh, hell, I still can't bear to give it less than an 8. And I was VERY sad to find the author died of cancer and I imagine won't exactly have any new books coming out any time soon. T_T