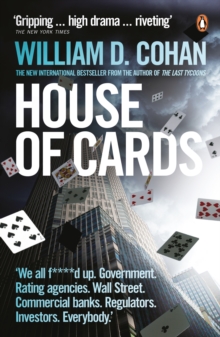 House of Cards : How Wall Street's Gamblers Broke Capitalism
Paperback
Description
From the author of The Last Tycoons, William D. Cohan's international bestseller House of Cards: How Wall Street's Gamblers Broke Capitalism dissects the collapse of Bear Stearns and the beginning of the financial crisis. It was Wall Street's toughest investment bank, taking risks where others feared to tread, run by testosterone-fuelled gamblers who hung a sign saying 'let's make nothing but money' over the trading floor. Yet in March 2008 the 85-year-old firm Bear Stearns was brought to its knees - and global economic meltdown began.
With unprecedented access to the people at the eye of the financial storm, William Cohan tells the outrageous story of how Wall Street's entire house of cards came crashing down. 'A page-turner ... hard to put down, especially thanks to its dishy, often profane, quotes from insiders ...
Read it, learn - and weep' Observer 'A fly-on-the-wall record ...
Cohan is a master of this genre. He perfectly captures the raw voice of Wall Street ... like Damon Runyon updated by Martin Scorsese' Spectator Business 'Action-packed ... gripping' Sunday Times 'A devastating account of the foul-mouthed, money-grabbing men responsible for Bear Stearns' collapse' Business Week William D.
Cohan was an award-winning investigative journalist before embarking on a seventeen-year career as an investment banker on Wall Street.
His first book, The Last Tycoons, about Lazard, won the 2007 Financial Times/Goldman Sachs Business Book of the Year Award and was a New York Times bestseller.
His second book, House of Cards, also a bestseller, is an account of the last days of Bear Stearns & Co.
Information
Format: Paperback
Pages: 608 pages
Publisher: Penguin Books Ltd
Publication Date: 01/01/2010
Category: Financial crises & disasters
ISBN: 9780141039596
Free Home Delivery
on all orders
Pick up orders
from local bookshops
Reviews
Showing 1 - 1 of 1 reviews.
Review by dudara
16/06/2015
Wall Street has long been a source of fascination for me and many people. It's kind of frightening to think that the money you earn and spend, the money you invest in pensions and savings, and the debts you incur are all influenced by the actions of a relatively small group of (mainly) men located in financial centres like Wall Street.House of Cards tells the story of Bear Stearns, a global investment bank, which was the first major casualty of the recent crisis in the financial markets. Bear Stearns was a pioneer in the area of securitisation and asset-backed securities which initially resulted in bumper figures at the bank, but ultimately led to its downfall in 2008. This resulted in the bank being sold in a firesale to JP Morgan Chase.The story starts in 2008 and recounts the mounting pressure on the bank's executives as they faced an unparalleled liquidity crisis in the overnight lending market, resulting in the sale of the proud and historic bank, all in the space of just 10 days. Having established the present, Cohan then starts to take us through the history and key personalities of Bear Stearns.What emerges is a portrait of how powerful and dominant personalities came to be in charge of billions of dollars. One of the main figures in the rise, and ultimate downfall, of Bear Stearns is long-serving CEO Jimmy Cayne. Named as one of the worst American CEOs of all time, Cayne is endemic of both the brilliance and faults that lay at the heart of the bank. A championship bridge player, he was playing in a tournament when B.S. hedge funds experienced difficulty, and it was clear to see that he did not comprehend the financial instruments upon which the success of Bear Stearns had been built.Cohan paints a picture of character over integrity, forcefulness and personality over knowledge and regulation. It is a scary world, full of folly. Many people are confused about recent events, but House of Cards is a wonderful place to start to learn. It is well researched, detailed and well-written. Cohan does not eulogise, but simply presents the personalities and facts. There is no need for embellishment - the outcomes of recent years speak for themselves.