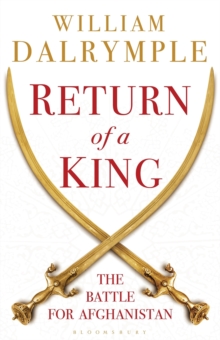 Return of a King : The Battle for Afghanistan
Hardback
Description
In the spring of 1839, the British invaded Afghanistan for the first time.
Led by lancers in scarlet cloaks and plumed shakos, nearly 20,000 British and East India Company troops poured through the high mountain passes and re-established on the throne Shah Shuja ul-Mulk. On the way in, the British faced little resistance.
But after two years of occupation, the Afghan people rose in answer to the call for jihad and the country exploded into violent rebellion.
The First Anglo-Afghan War ended in Britain's greatest military humiliation of the nineteenth century: an entire army of the then most powerful nation in the world ambushed in retreat and utterly routed by poorly equipped tribesmen. Return of a King is the definitive analysis of the First Afghan War, told through the lives of unforgettable characters on all sides and using for the first time contemporary Afghan accounts of the conflict.
Prize-winning and bestselling historian William Dalrymple's masterful retelling of Britain's greatest imperial disaster is a powerful and important parable of colonial ambition and cultural collision, folly and hubris, for our times.
Information
Format: Hardback
Pages: 608 pages, Illustrations
Publisher: Bloomsbury Publishing PLC
Publication Date: 01/02/2013
Category: Asian history
ISBN: 9781408818305
Other Formats
Paperback from £9.19
EPUB from £9.49
Free Home Delivery
on all orders
Pick up orders
from local bookshops
Reviews
Showing 1 - 2 of 2 reviews.
Review by pierthinker
16/06/2015
Dalrymple has steeped himself in the history of India and Afghanistan and in this book displays his knowledge and research with skill and a lightness of touch. His telling of Britain's First Afghan War and its ultimate complete failure is detailed, complete, exciting and carries warnings for our own times, connections that he often makes. The narrative is thrilling and drives forwards to an almost inevitable disaster of Britain's own making so the reader wants to find out what happens next.The history of Afghanistan, the cultures, the people and the historical sources are all new to me, so this becomes a revelation to find the density of political, dynastic and cultural viewpoints available to bring the story to life. An exceptional reminder that history is not just something that happened here, but that happens everywhere.Neither the British nor the Afghanis come out of this tale smelling so sweetly. British imperialism and an assumption of superiority led them to ignore the politics on the ground and ultimately alienate a peoples who were initially only to willing to support them. The Afghan reluctance to accept a place in the wider world and to resists cultural and political change led them to 'win' this War, but to lose the opportunity to enter a wider world' a position that has not really changed since then.A very readable history revealing much that is new to the Western reader and which provides the opportunity to reflect on how history can teach us how to act for the better today, if only we would let it.
Review by oparaxenos
27/01/2016
Before picking up this book, I had heard a lot about William Dalrymple, but I did not realise just how good an author he is. This is a book about an extremely interesting subject, but what is striking is how Dalrymple made it so eminently readable. I would pick up the book and start reading, and before I knew it 40 pages would have gone by. The author is clearly in command of his material, and he writes in a balanced and perceptive way. The story has striking parallels to the unfortunate experience of the NATO forces in Afghanistan in the past 10 years. I strongly recommend this to anyone with an interest in history.