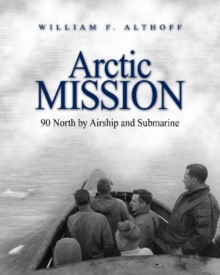 Arctic Mission : 90 North by Airship and Submarine
Hardback
Description
Artic Mission recounts two concurrent Navy Department penetrations of the Arctic in 1958, one an unclassified project, the other absolutely secret.
The Cold War posed alarm and threat; amid its urgencies, the International Geophysical Year of 1957-58 was underway.
Sputnik had opened the Space Age which was a national humiliation for Americans, and so the White House needed a success.
Sailing under the direct orders of the Commander in Chief, the nuclear submarine Nautilus would, if successful, reaffirm U.S. technological prowess with a stupendous demonstration; an under-ice transit of the Arctic Basin via the North Pole.
The airship's unclassified mission was an Office of Naval Research project, with the objective to assess the suitability of non-rigid airships for support of field parties deployed throughout the North, ashore and afloat.
That August, BUNO 126719 crossed the Arctic Circle, the sole military airship ever to do so, en route to rendezvous with a U.S.
Air Force ice-rafted camp in the Arctic Ocean. As"719" pressed north, Nautilus pierced the geographic pole, then without changing course logged the first-ever transit of the deep-ocean Arctic, Pacific to Atlantic. Based on interviews and correspondence with dozens of participants, and on Navy Department reports, the work presents first-hand material throughout, and is a distinct contribution to naval literature. About the AuthorWilliam F. Althoff, an environmental geologist by profession, has published extensively in technical and history-related journals.
During 1999-2000, he was Ramsey Fellow in Naval Aviation History at the National Air and Space Museum, Smithsonian Institution, Washington DC.
Information
Format: Hardback
Pages: 256 pages, photo section
Publisher: Naval Institute Press
Publication Date: 15/11/2011
Category: Naval forces & warfare
ISBN: 9781612510101
Free Home Delivery
on all orders
Pick up orders
from local bookshops
Also by William F. Althoff