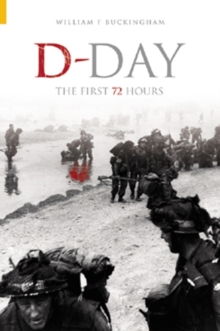 D-Day: The First 72 Hours
Paperback / softback
Description
The Allied invasion of occupied France began with the delivery of three airborne and six infantry divisions onto a 60-mile stretch of the Normandy coast.
Accomplishing this involved over 1,200 transport aircraft, 450 gliders, 325 assorted warships and over 4,000 landing vessels.
Operation Overlord, as the invasion was code-named, remains the largest amphibious invasion in history.
This books tells the story hour-by-hour as it unfurled on the beaches, as experienced by the Allied troops.
D-Day: The First 72 Hours covers the initial attacks made by airborne and special forces until the point where all the beachheads were secured.
Information
Format: Paperback / softback
Pages: 320 pages
Publisher: The History Press Ltd
Publication Date: 01/05/2004
Category: European history
ISBN: 9780752428420
Also by William F. Buckingham | View all