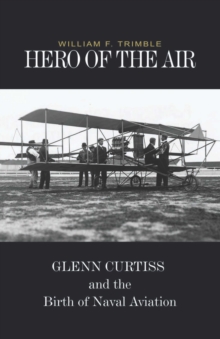 Hero of the Air : Glenn Curtiss and the Birth of Naval Aviation
Hardback
Description
Hero of the Air focuses on the role of Glenn H. Curtiss in the origins of aviation in the United States Navy.
A self-taught mechanic and inventor, Curtiss was a key figure in the development of the air plane during the early part of the century. His contributions include a control system using the aileron instead of the Wrights'wing-warping and the first successful hydro air plane and flying boat.
Curtiss's links to the Navy came as result of advocates of aviation in that service, chief among them Captain Washington I.
Chambers, who recognised that the navy had special requirements for air planes and their operations, and for aviators and their training.
In a partnership with the navy, Curtiss helped meet these special requirements of the service.
Curtiss and the navy continued their collaboration through World War I, reaching a climax in 1919 with the first transatlantic flight by the famed Navy-Curtiss NC flying boats. The book addresses the broader implications of the Curtiss-Navy collaboration in the context of the long-standing trend of government-private co-operation in the introduction and development of new technologies.
It also explores the interactive dynamics of weapons procurement and technological change within a large and entrenched bureaucracy and helps lay to rest the persistent myth that the navy resisted the introduction of aviation.
The pioneering work of Curtiss and his close ties with Chambers and others helped the navy to define the role of aviation in the years up to and through World War I. About the AuthorA Professor of History at Auburn University in Alabama, William F.
Trimble received his Ph.D. from the University of Colorado, Boulder.
Information
Format: Hardback
Pages: 304 pages, 47 photos
Publisher: Naval Institute Press
Publication Date: 15/05/2010
Category: Naval forces & warfare
ISBN: 9781591148791
Free Home Delivery
on all orders
Pick up orders
from local bookshops