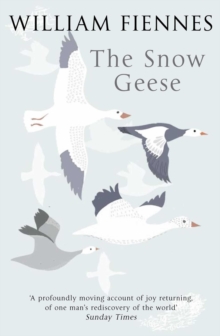 Description
WINNER OF THE HAWTHORNDEN PRIZE SHORTLISTED FOR THE SAMUEL JOHNSON PRIZE SUNDAY TIMES YOUNG WRITER OF THE YEAR One winter, after an enforced period of quiet, William Fiennes finds himself restless and yearning for adventure.
Inspired by his reading about the migratory patterns of birds, he flies to Texas to find the million-strong flocks of snow geese and to follow them on their spring flight thousands of miles north to breeding grounds on the Arctic tundra.
This mesmerizing book, already a classic, captures their journey with wisdom, humility and endless curiosity.
It is a meditation on freedom of movement, on seeing the world anew, and on the joy of returning - indefinably changed. `Why are we drawn to birds, to landscape, to nature?
It is for the sense of wonder - and in capturing that sense of wonder, Fiennes reminds us how desperately we all need it' Sunday Telegraph `The Snow Geese moved me as have few other recent books.
No one who reads it is likely to continue to look at the world in the same way' Times Literary Supplement `A beautifully solitary and beautifully reflective book' Evening Standard `The descriptions of the geese and their environment are jaw-droppingly beautiful.
But Fiennes' most remarkable talent is for describing the quotidian with such freshness that it is like seeing the world for the first time' Mail on Sunday `An inspired work of natural history and travel.
A classic' Irish Independent
Other Formats
Paperback from £7.79
EPUB from £7.98
Free Home Delivery
on all orders
Pick up orders
from local bookshops
Reviews
Showing 1 - 1 of 1 reviews.
Review by lauralkeet
16/06/2015
Drifts of specks appeared above the horizon ring. Each speck became a goose. Flocks were converging on the pond from every compass point, a diaspora in reverse, snow geese flying in loose Vs and Ws and long skeins that wavered like seaweed strands, each bird intent on the roost at the centre of the horizon's circumference. ... Sometimes whole flocks circled over the roost, thousands of geese swirling round and round, as if the pond were the mouth of a drain and these geese the whirlpool turning above it. (p. 27)This was William Fiennes' first glimpse of snow geese, in Texas, as they began their spring migration to the Canadian tundra. While recovering from a serious health issue, Fiennes read a classic story from his childhood, Paul Gallico's The Snow Goose. This sparked an interest in birds, and a strong desire to see snow geese first-hand. He decided to travel from his native England to Texas, and follow the geese the full length of their spring migration. Although he expected to keep pace with the geese, sometimes he arrived at his next stage well ahead of the birds, who would stop traveling if weather conditions were less than ideal. For Fiennes, the journey was spiritual as well as physical. As the geese flew by the thousands to their northern breeding ground, Fiennes was on a path to emotional recovery, repairing a soul shaken by his illness. He found both solace and insight in those he met along the way. These included Eleanor, a Texas widow; Jean, a former tennis-playing nun; a man named David and his father-in-law, nicknamed "The Viking"; and a woman named Ruth whose generosity provided Fiennes with the renewal he needed to complete his journey. Fiennes' prose is marvelous, especially when describing the natural world. As he moved from gulf coast to prairie to tundra, each stage was markedly different from the one before. Fiennes became expert at identifying different types of birds. His memoir digresses into passages about why birds migrate, and the paths taken by different species. I'm a bird geek, so I liked these segments. And as his trip progressed, Fiennes also explored concepts of nostalgia and homesickness. He particularly struggled when stuck in a remote outpost in advance of the geese, with everything around him completely unfamiliar. And yet, while being away increased his love for the house where he grew up, he also developed a deeper understanding of its importance, and how this understanding could help him to move forward with his life:I had to turn my nostalgia inside-out, so that my love for the house, for the sense of belonging I experienced there, instilled not a constant desire to go back but a desire to find that sense of belonging, that security and happiness, in some other place, with some other person, or in some other mode of being. The yearning had to be forward-looking. You had to be homesick for somewhere you had not yet seen, nostalgic for things that had not yet happened. (p. 204)This was a beautiful, moving book. Highly recommended.