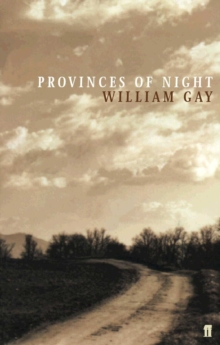 Provinces of Night
Paperback
Description
The year is 1952, and E.F. Bloodworth has returned to his home - a forgotten corner of Tennessee - after twenty years of roaming. The wife he walked out on has withered and faded. His three sons are grown and angry. Warren is a womanising alcoholic; Boyd is driven by jealousy to hunt down his wife's lover; and Brady puts hexes on his enemies from his mother's porch. Only Fleming, the old man's grandson, treats him with respect and sees past all the hatred, realising the way it can poison a man's soul. It is ultimately the love of Raven Lee, a sloe-eyed beauty from another town, that gives Fleming the courage to reject his family's curse.In a tale redolent with the crumbling loyalties and age-old strife of the post-war American South made familiar to us by Cormac McCarthy, Gay's characters inhabit a world driven by blood ties that strangle as they bind. A coming of age novel, a love story, and a portrait of a family torn apart, Provinces of Night introduced a distinctive new voice in American fiction and a superb cast of characters.
Information
Format: Paperback
Pages: 304 pages
Publisher: Faber & Faber
Publication Date: 01/08/2002
ISBN: 9780571212149
Free Home Delivery
on all orders
Pick up orders
from local bookshops
Reviews
Showing 1 - 2 of 2 reviews.
Review by blanderson
16/06/2015
A strange and absurdly poignant novel, with an intriguing cast of characters and a slew of intersecting plotlines that give you an almost gnarled bluesman's roadman of life in rural times. What William Gay does best is shape a world that seems to exist outside of the pages---character who still seem to be living even when they are outside the narrative.<br/><br/>Fleming was one hell of a hero, and I could see a lot of myself in his thoughts and fears. EF, the old man, comes across as both genuine and lost, set adrift by thousands of bad decisions he's had a lifetime to fuck up. Strong, the archaic, almost atavistic, portrayal of the old fashioned Man. Jr Albright is a hilarious fool of a character, well meaning but silly beyond belief, like Cormac McCarthy's Harrogate mixed with a character from the Trailer Park Boys. Raven Lee was funny and charming, Boyd frustrating but intriguing, a mystery himself, the blood that flows thru Fleming. Brady is a mewling fool, as if he and Warren could make only one functioning man between them. <br/><br/>Only the cobbled together conclusion, a wrap up, knocks this down from a 5. Truly funny and beautiful in many ways. The voices of dead bluesmen churning out their stories.
Review by pennsylady
16/06/2015


Provinces Of Night by William Gay

4.5*

As we are introduced to Gay's characters, it's 1952 in rural Tennessee.
Two important elements of the 1952 backdrop - the valley is about to be buried under a lake by the Tennessee Valley Authority and the nation enters the Korean War.

E.F. Bloodworth is finally coming home to his mountain home "seventy miles back of Nashville, Tennessee.
He's an itinerant bluesman, determined to abandon the life of vagrant banjo picker.
He's returned home to make amends with the wife and 3 sons he'd abandoned years before, after a violent gunfight.
It's not to be...
Son Warren, a former war hero is now an alcoholic womanizer, with an equally destructive son.
Boyd has abandoned his son Fleming and headed for Detroit, in revengeful pursuit of his wife and the peddler she ran off with.
Brady still lives with his mother and tells fortunes, casts spells, places hexes as he chooses.

We'll walk with each of these men and experience what motivates them.
But, it's really 17year old Fleming's story.
He's an aspiring writer trying to evade the violent, self destructive legacy of his family.
"The youngest and best hope for the future of this family line resides with him."

Grandfather EF and grandson Fleming choose to share the road of redemption in the little time allotted them.

The story in compelling in an earthy kind of way.
There is definite darkness but also some humor to balance it.

It's hauntingly tragic.
It was termed a "whiskey-scented, knife-scarred novel "

I felt it was masterfully written and I highly recommend the read.
In reviewing it, I can't do justice to the intensity of the novel.

-------

William Elbert Gay (October 27, 1941 – February 23, 2012)