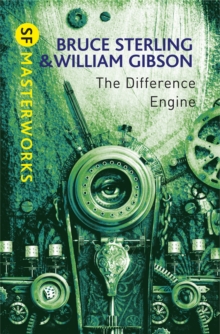 The Difference Engine
Paperback
Description
The computer age has arrived a century ahead of time with Charles Babbage's perfection of his Analytical Engine.
The Industrial Revolution, supercharged by the development of steam-driven cybernetic Engines, is in full and drastic swing.
Great Britain, with her calculating-cannons, steam dreadnoughts, machine-guns and information technology, prepares to better the world's lot ...
Information
Format: Paperback
Pages: 400 pages
Publisher: Orion Publishing Co
Publication Date: 01/01/2011
Category: Science fiction
ISBN: 9780575099401
Free Home Delivery
on all orders
Pick up orders
from local bookshops
Reviews
Showing 1 - 2 of 2 reviews.
Review by Shimmin
16/06/2015
This book is in some ways very similar to Neuromancer. It has some striking passages, evocative ideas, and the earlier stages of each of the book's three main divisions are quite gripping; although the style is uncertain and occasionally a slog, I was drawn in by the (now familiar) vision of a mechanical London they'd created, and by the lives and schemes of the characters. However, the early spark of each section seemed to fizzle out, and it became harder going. Gibson and Sterling mix together an adventure plot with pseudohistory, with exploration of their fictional London (complete with really quite a lot of technicality), and with an increasingly convoluted conspiracy full of (towards the end) blandly-unlikeable characters. Most tiresomely, they pull the same non-ending as Neuromancer did, but even more so: one of the major characters gets an actual ending, but the conspiracy plot that they (misguidedly?) decided to centre the story on just drifts off into nothing, and the book concludes unsatisfactorily with a motley collection of in-story news clippings and extracts that add remarkably little and are quite hard work.It's not a cheerful book either, with no good coming to anyone, and is riddled with attitudes and situations that are probably a decent approximation of Victorian, but none the more welcome for it. The petty prejudices of all the characters leave a nasty taste in the mouth but I can overlook them; on the other hand, I could have perhaps done without the only Japanese characters being ninja-approximations with a worshipful attitude to everything British, and the only black character being a slave with no apparent point at all. Neither were necessary, or even relevant.Ground-breaking they may be, but the duo of Neuromancer and The Difference Engine seem enough evidence to confirm that I wouldn't enjoy reading any more Gibson. There's cool bits in what he writes, fair enough, but heck can he be tedious. Maybe that's one of the problems of originality - the next person to come along can grab onto some of your ideas and do something better or more elegant with them.
Review by comixminx
16/06/2015
Really excellent. I have read it before but a long time ago - probably when I was twenty or less - and I've certainly appreciated it much more this time. For one thing, I know so much more than I did 25 years ago, and so I get more of the references / allusions / parallels. A lot of the fun in parallel world fiction is in that sort of detail so that makes a big difference.<br/><br/>I think the story-telling is well-done but a little convoluted; I found myself having to refer back to earlier pages at various points. No bad thing but again a factor in me enjoying it more now, read more slowly to savour the writing and the story, compared to when I first read it as a hasty younger person.
Also in the S.F. Masterworks series | View all