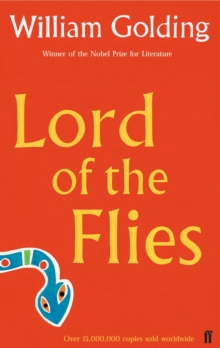 Lord of the Flies
Paperback
Description
First published in 1954, Lord of the Flies is now recognised as a classic, one of the most celebrated and widely read of modern novels.
This edition, which includes an introduction and notes by Ian Gregor and Mark Kinkead-Weekes, meets the demand for its use in schools and its prescription by numerous examining boards.
In compiling the notes they have borne in mind the needs of younger readers not only in this country but overseas.
Information
Format: Paperback
Pages: 304 pages, notes for students and an introduction by Ian Gregor and Mark Kinkead Weekes
Publisher: Faber & Faber
Publication Date: 01/12/1954
ISBN: 9780571056866
Other Formats
Paperback from £5.99
CD-Audio from £9.39
EPUB from £7.19
CD-ROM from £17.89
Free Home Delivery
on all orders
Pick up orders
from local bookshops
Reviews
Showing 1 - 5 of 6 reviews.
Previous | Next
Review by sixesandsevens
16/06/2015
I didn't like this book - I feel a bit silly writing this - I thought the ending was rubbish.
Review by Jacey25
16/06/2015
The best book I ever had to read in school. A fascinating picture of how children create their own society without adult influences and intervention and how the good or evil inherent comes out. One of the most raw books I remember reading in school and so powerful because it doesn't pull any punches... at the most simple level it makes you think of what will happen when bullying goes unchecked.
Review by pinkmouse
16/06/2015
Well i had to read this several times to understand the book fully. At the beginnign the speech is confusing as you don't always know who is talkign and although i think both the messages and the themes are hugely poignant in this book i think the writing lets it down. Yes, it has good devices etc, but i find it lacks the flow. On the whole a very good book though with an excellent insight into boys behaviour human nature and many other things too.
Review by Ynaffit27
16/06/2015
The book was entertaining and believable. I was very confused on the dialogue tags--who was saying what. Also, some of the descriptions were very confusing and I didn't know what was happening. The story, however, has a great theme about how society maintains order and who gets a voice. I felt so bad for Piggy--he never got a chance and was stereotyped. I was devastated at what happened to him and felt an urge of tears. Teenagers can be so cruel to their peers. I didn't like the ending--it seemed like a cop-out. I think I would teach this to a middle or high school classroom.
Review by jeff.s.thomson
16/06/2015
I've just finished reading Lord of the Flies, whilst I understand many people are forced to read this book at school and end up disliking it as a result, I never was.I'm not going to bother summarising the plot, since the basic idea is so well known.I can see why this book is considered a classic, and why it is often studied in schools. This certainly wasn't my favourite book ever. And I really didn't like the bits where it gets so difficult to understand, like the characters are on some sort of trip (the bit with the pigs head and the "lord of the flies"?).Overall I definitely consider this as one of the books everybody should have read. Certainly canonical.6.5/10