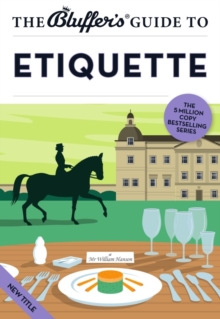 The Bluffer's Guide to Etiquette
Paperback
Information
Format: Paperback
Pages: 128 pages, 1 colour illustrations
Publisher: Bluffer's
Publication Date: 15/01/2014
Category: Humour
ISBN: 9781909937000
Free Home Delivery
on all orders
Pick up orders
from local bookshops
Reviews
Showing 1 - 5 of 5 reviews.
Review by MinaKelly
16/06/2015
Having read and really enjoyed Bluffer's Guide to Football, I found Etiquette a bit of a let down. I might have enjoyed this book more if it had been the first of the Bluffer's series I'd read. It's not as sharply written or as witty, and though I believe most of the advice is accurate, some of the suggested anecdotes (like the shaking hands one) are complete myths, and are very unlikely to impress anyone.
Review by blueviolent
16/06/2015
I received a digital copy of this book from LibraryThing Early Reviewers which did not influence this review.This book was a quick read, about ninety minutes worth of etiquette that most of the world will never have need of such as how to greet "The" Queen "Your Majesty followed by Ma'am" and what to wear inside the Royal Enclosure at Royal Ascot (a race, which, duh, means horse race, but proper types know of no other kind of race but equestrian). The book's condescending tone is sometimes mildly amusing and it does have a few tips which even the least likely to consort with royalty types might find vaguely useful such as order of toasts at wedding receptions and dress code definitions, but really if you're interested in wedding etiquette in any serious way there are a million better books. I guess the point is I don't really know who the actual intended audience is for this book. I think it is written more to amuse the proletariat than as what it ostensibly claims to be, which is more of a guide for those who already have some foothold into the upper echelons. That's fine, I'm almost certainly never going to meet anyone royal and I found the book amusing enough to keep me entertained for the brief reading. Had it gone on much longer, I probably would have lost interest. As a sort of side note, there are quite a few times when Mr. Hanson slags Americans. It's pretty much in line with what you expect as you read the book and none of it is too serious. I happen to be anti-nationalism of any sort, so this type of insult upon "my" country doesn't really bother me, but if you're any kind of extreme American nationalist, it might irritate you.
Review by BookAngel_a
16/06/2015
This book is written from the British point of view, as a humorous attempt to educate the rest of us how to (attempt to) fit in the upper social circles of society - think of Kate Middleton's family, for instance.While I don't expect to ever mingle in high society, I am always interested in understanding good manners and proper social customs - and why those things are proper, or why not. I enjoyed the chapters on greetings and various styles of dress for different occasions, what type of dinnerware to use, etc.There's a lot of dry humor here too, I had a few laughs at certain examples of bad taste. Americans like myself need to be prepared for a few wisecracks at our expense, but it is all done in fun. I enjoyed this short book and I feel that it helped me to better understand proper English culture. As an avid reader who loves literature written in England, I think it will enhance my understanding of what I read as well.
Review by Erratic_Charmer
16/06/2015
I received a free copy of this book as part of the LibraryThing Early Reviewers' programme.For anyone even the tiniest bit fascinated with the English aristocracy, this is a quick but informative and entertaining read. There are chapters covering introductions, dress, dining, online etiquette, birth, marriage, and death, among others. Readers, be advised: this is not a guide to the bare basics of good manners but rather an 'advanced' course designed to help you bluff your way in high society gatherings. Hanson not only reviews many of the traditional points of etiquette (such as not cutting the 'nose' off of the cheese) but in many cases explains why things are done in this way (in the case of the cheese, it's because cheese makers hold that the finest part of a cheese round is in the centre: cut off the point of the wedge and you're taking the best bit for yourself). The snobbery is frequently shocking - to my mind, delightfully so, as Hanson's dry wit shines through on every page and had me laughing aloud more than once. For example, when advising would-be social climbers on Twitter etiquette: <i><blockquote>We are frightfully pleased you have a new job, or new car, or that you've given birth, but all such life achievements should be underplayed and written about in a casual, offhand manner in order to show that you are above such things as melodrama.</i></blockquote>My favourite chapter was about The Season and included a brief summary of each event during the social season (Chelsea Flower Show, Glyndebourne Opera Festival, and so on) along with advice on correct behaviour for each. At Wimbledon, for instance:<i><blockquote><b>Do say</b> 'The game of lawn tennis was actually invented in Birmingham, England, in 1865 by Harry Gem and Juan Bautista Augurio Perera.'<b>Don't say</b> 'Wahey! I can see her pants from here.'</i></blockquote>This little book is both interesting and informative and also manages to be quite funny.
Review by JeffV
16/06/2015
Etiquette is often used as comic foil in the movies. The notion that there is strict code of social conduct observed by the cultural elite seems silly to the uncouth masses. Just how did such a thing come to pass? Partly it arose from more dangerous times; in the Middle Ages, hidden daggers were often a danger and some of these routines came about as a way to prove one is harmless. Mostly though, it's years of people having little else to do with their lives but obsess about such details as the color of (or even existence of) a hidden belt. The Bluffer's Guides are British publications, and tend to focus on to get by in the UK. Much of what Hanson refers to as "American inventions" translate into unforgivable faux pas in British high society, particularly in the presence of Royals (don't call them "Royals.") This is a very funny book to read, I imagine doubly so for a Brit, but as an uncouth American, I take perverse pride in my wanton violation of much of this book. I suppose this means I won't be invited to tea at Buckingham Palace, but if ever I were, I'd probably bring a six pack of my favorite beer. I don't often mingle with high society, and admittedly would be deemed pretty offensive among them . To follow the tenets of this book would lead me to punch myself. Maybe that's why I spend so little time among them -- courting favor of the platinum spoon set just isn't something I do. Bring them down to my level? You bet. A friend of mine and myself used to regularly attend the opera with the stated goal of making the experience a little less proper for most of those in attendance. This was often done not only via casual dress, but discussion between the acts transposing the opera we were seeing into a version acted out by The Three Stooges. The Bluffer's Guide to Etiquette is an entertaining look on how the top 0.001% live. If you presume to partake in this rarified air, then there is certainly something to be learned here (to bluff ones way through, anyway...for staying power, take one of those silly classes often mocked in the movies). The author, however, makes an assumption that the reader understands the importance of these societal conventions, and actually apologies to readers who don't have the British royal family to hold in esteem. A chapter as to why some of this should matter to the rest of us might make a nice addition to later editions.
Also in the Bluffer's Guides series | View all