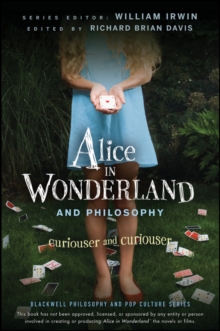 Alice in Wonderland and Philosophy : Curiouser and Curiouser
Paperback
Description
The perfect companion to Lewis Carroll's classic book and director Tim Burton's March 2010 remake of Alice in Wonderland Alice's Adventures in Wonderland has fascinated children and adults alike for generations.
Why does Lewis Carroll introduce us to such oddities as blue caterpillars who smoke hookahs, cats whose grins remain after their heads have faded away, and a White Queen who lives backwards and remembers forwards?
Is it all just nonsense? Was Carroll under the influence? This book probes the deeper underlying meaning in the Alice books, and reveals a world rich with philosophical life lessons.
Tapping into some of the greatest philosophical minds that ever lived Aristotle, Hume, Hobbes, and Nietzsche Alice in Wonderland and Philosophy explores life's ultimate questions through the eyes of perhaps the most endearing heroine in all of literature. Looks at compelling issues such as perception and reality as well as how logic fares in a world of lunacy, the Mad Hatter, clocks, and temporal passage Offers new insights into favorite Alice in Wonderland characters and scenes, including the Mad Hatter and his tea party, the violent Queen of Hearts, and the grinning Cheshire Cat Accessible and entertaining, Alice in Wonderland and Philosophy will enrich your experience of Alice's timeless adventures with new meaning and fun.
Information
Format: Paperback
Pages: 240 pages, Illustrations
Publisher: John Wiley and Sons Ltd
Publication Date: 01/01/2010
Category: Literary studies: c 1800 to c 1900
ISBN: 9780470558362
Other Formats
EPUB from £12.09
PDF from £12.09
Free Home Delivery
on all orders
Pick up orders
from local bookshops
Reviews
Showing 1 - 5 of 17 reviews.
Previous | Next
Review by booksandwine
16/06/2015
Reading philosophy and literary theory related to books I've already read is like being given a key. I feel like I've unlocked some secrets within the text and have been given a better view of what deeper meanings Alice In Wonderland may contain.Alice In Wonderland And Philosophy: Curiouser and Curiouser is comprised of four subject sections. Each section is divided into chapters/essays, all written by different authors, typically a professor. Despite each essay being written by academics, it was easy to read and I did not struggle through this.My favorite essay in this book was Unruly Alice: A Feminist View of Some Adventures in Wonderland by Megan S. Lloyd which, obviously was a feminist reading of Alice In Wonderland. My inner-feminist loved the portrayal of Alice as a strong girl who knows what she wants, thinks for herself, is inquistive and who is often not well-behaved.The topics discussed in Alice In Wonderland And Philosophy run the gamut from procrastination to definitions of reality to time perception to Spice World. This was such a cool and smart way to look at a book. I definitely want to pick up the Harry Potter book of the Blackwell series now as well as the The Simpsons book, since I would love to see these takes on pop culture.Here's a few quotes that spoke to me:"Indeed, Alice eats and drinks what she sees, intrudes, barges in, takes her seat at the tea party uninvited, hears a squeaking pencil from one juror and takes it from him, uses her intellect to solve problems, and frequently speaks her mind--everything young women should do." pg. 9Preach it, sista."Alice's sister longs for a similar experience, and muses about how these strange tales relieve us from the boredom and dullness of our everyday existence. They brighten the ordinary with excitement and allow us to transcend the commonplace, at least for a while."And isn't that why we all read books? To transcend the commonplace? I think that will be my new excuse when my nose is in a book.
Review by MissWoodhouse1816
16/06/2015
It takes a rare collection of authors to find a correlation amongst the Matrix, Spice Girls, nuclear bombs, Lockian philosophy, Jell-O, and Alice's adventures in Wonderland. However, this group of authors blends these elements together with convincing ease. The essays in this book step the reader through different aspects of Carroll's famous work, bringing out evident timeless facets such as logic and reality while at the same time relating the work to feminism and other modern criticisms. At times the essays, like many criticisms are wont to do, take gross leaps and make uncalled for assumptions to prove their points. Too, the reader should not expect academic or peer-review quality. These, quite simply, are written to the average reader, for those people who have read the book or seen the movie and wish to expand the way they think about the story. However, even the more advanced reader can find things in the essays about which to think. Overall, this is a lovely addition to any Carroll lover's bookcase!
Review by GRgenius
16/06/2015
While a myriad of the magical aspects of the story are delved into, it was a bit too much for my liking. Some of the analogies drawn were more common in nature and highly entertaining not only to read, but to conside....such as the jam yesterday-jam tomorrow-but-never-jam-today situation. (Trust me, if you read this chapter, although you may have to be a bit related to the Mad Hatter to follow, it definitely rings true.) On the other side of the coin, another section deals with the nuclear strategists and how Alice's word games in Wonderland are akin to the "games" played in times of war.As a lover of the original tale, my eye was drawn to this to see what might exist behind the allusions and madness....but as it turns out, some things (at least for this reader) are better left in the realm of fantasy lest one desires a little madness of their own.
Review by knittingmomof3
16/06/2015
My review from my blog:Alice In Wonderland and Philosophy is a rather enlightening read about lessons that can be learned through the various characters and their actions in the novel Alice In Wonderland. While I had never looked this deeply into the meaning of Lewis Carol's delightful and fanciful tale before now, William Irwin and Richard Brian Davies decided to as a part of their Blackwell Philosophy and Pop Culture Series. So what can be learned? The book is laid out in four parts totaling fourteen chapters each of which is written by a different author. With depth and precision, Alice in Wonderland and Philosophy deconstructs various parts of the story to show the deeper philosophical side and how each can be practically applied to everyday life. My favourite chapter was on logical possibility and tying in Hume's thoughts. Throughout Alice In Wonderland and Philosophy, the reader can look within as well as at the world at large all the while learning about some of the greatest philosophical minds. I found Alice In Wonderland and Philosophy to be a thoroughly engaging read.
Review by andyray
16/06/2015
i haven't had to do much convoluted thinking since the university in 1990. my training, however, was sufficient to tie in the references to most of the named philosophers. I note with interest how the Germanic philosophers (less Shopenhauer) have hzve picked up- votes, so to speak) among our young, contempories in the USA. I recommend this tome to anyone who enjoys thinking outside the box and who finds Lewis Carroll both delightful and sane.One drawback re marketability: These essays will not mean much to you if you do not have at the least a basic background in philosophy, but do not judge that for yourself as you may have more knowledge than you know.
Also in the The Blackwell Philosophy and Pop Culture Series series | View all