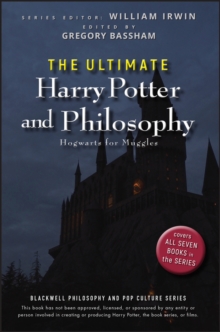 The Ultimate Harry Potter and Philosophy : Hogwarts for Muggles
Paperback
Description
A philosophical exploration of the entire seven-book Harry Potter series Harry Potter has been heralded as one of the most popular book series of all time and the philosophical nature of Harry, Hermione, and Ron's quest to rid the world of its ultimate evil is one of the many things that make this series special.
The Ultimate Harry Potter and Philosophy covers all seven titles in J.K.
Rowling's groundbreaking series and takes fans back to Godric's Hollow to discuss life after death, to consider what moral reasoning drove Harry to choose death, and to debate whether Sirius Black is a man or a dog.
With publication timed to coincide with the release of the movie Harry Potter and the Deathly Hallows (Part 1), this book will be the definitive guide for all fans looking to appreciate the series on a deeper level. * Covers a range of intriguing topics such as the redemption of Severus Snape, the power of love, and destiny in the wizarding world * Gives you a new perspective on Harry Potter characters, plot lines, and themes * Makes a perfect companion to the Harry Potter books and movies Packed with interesting ideas and insights, The Ultimate Harry Potter and Philosophy is an ideal companion for anyone interested in unraveling the subtext and exploring the greater issues at work in the story.
Information
Format: Paperback
Pages: 304 pages
Publisher: John Wiley and Sons Ltd
Publication Date: 27/08/2010
Category: Philosophy
ISBN: 9780470398258
Free Home Delivery
on all orders
Pick up orders
from local bookshops
Reviews
Showing 1 - 4 of 4 reviews.
Review by 06nwingert
16/06/2015
Ultimate Harry Potter and Philosophy is the sequel to Harry Potter and Philosophy; however, readers don't have to pick up the original because this version covers all seven books plus some of the ancillary information Harry Potter fans have been given (i.e. Dumbledore is gay). The original was published in 2004 prior to the release of Half-Blood Prince and Deathly Hallows. I admit: I'm impressed by the series (Popular Culture and Philosophy) and the depth of the essays in each book. Ultimate Harry Potter and Philosophy is written in both a scholarly fashion and everyday English so that both academics and regular readers can understand and appreciate the work. With such themes as love, death, the soul and homosexuality, rabid Harry Potter fans will want this book to satiate their appetite, regular readers will find something interesting and scholars will find this book sitting on their desk , waiting to be cited in their next journal article.
Review by jshillingford
16/06/2015
I have several books from the Pop Culture and Philosophy series, and have found them worthwhile overall. Like many fans, I'm usually on the lookout for something more to do with my favorite show/film/book, etc. and these are decidedly better than the commonplace "companion" or "encyclopedia." Harry Potter already has an entry in the series, "Harry Potter and Philosophy: If Aristotle Ran Hogwarts". That book was very good and gave a new perspective on Pottermania. As the authors mention in the forward to this book, it was also notable for recognizing just how important the Potter books had become to public consciousness. These weren't just for kids- teens and adults were also hooked. However, that book focused more on the early books. The last few books, especially the conclusion, have darker/edgier themes that are ripe for philosophical reflection (death, destiny, self sacrifice). However, that is a double edged sword. The very adult themes lead some of the authors here to go "too deep." These books aren't meant solely for philosophy professors and college majors; they are supposed to be accessible to the average person (who has never taken a philosophy class). But, some of the essays here are not. However, for the die-hard fan looking for something new, this is worth picking up. There is a large variety of themes to the essays including: destiny, patriotism (eg House loyalty), and more than one on death. One essay even tackles the bombshell Rowling dropped that Dumbledore was gay. I started every essay; if it got too scholarly I moved on. That is not too say that some people won't enjoy those essays. Like the Pop Culture and Philosophy series itself, there's something here for everyone. But those unsure may want to check this out of the library rather than buy it. Recommended.
Review by smmacdonald
16/06/2015
A fascinating discussion of philosophy and the Harry Potter series, through the final book, Deathly Hallows. This book will appeal to Harry Potter fans as young as gifted middle schoolers through wise old adults. I would rate this book PG for a chapter that ponders if Dumbledore is gay (which Rowling famously announced once, when asked he'd ever been in love).
Review by jrgoetziii
16/06/2015
I see why they organized it the way they did, but the first few essays, I thought, were not as good as the last several, so they ought to have done it differently.
Also in the The Blackwell Philosophy and Pop Culture Series series | View all